Round Steak Goulash
easy and economical … Need I say more!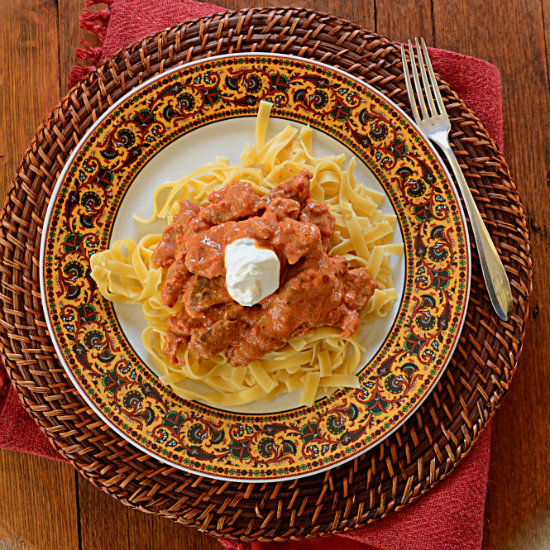 Depending on the amount of liquid you add to this recipe it can be a soup or stew. It takes so few ingredients I'll bet you have most in your pantry and fridge. It comes together in 10 minutes. Then simmer for about 1 1/2 hours or place in a crock pot for all day cooking.
Serve this on a bed of egg noodles or in the last minutes of cooking add peeled and quartered potatoes. Perfect Simple Beef Goulash!
Recipe:
Serves 4
2 Tablespoons olive oil
1 1/2 to 2 Pounds round steak-sliced thin
Flour for coating meat (This can be omitted if you are wanting a soupier outcome.)
1/2 Large yellow onion-chopped
1 Clove garlic-minced
14 Ounces canned tomatoes-petit cut
4 Ounces tomato Sauce (8 Ounces for more tomato taste)
1/2 to 1 Cup Beef Broth (Or water in a pinch)
2 Teaspoons Paprika
1/2 to 1 Teaspoon salt
1/4 Teaspoon pepper
Large bay leaf
1 tablespoon fresh parsley and more for garnish (or 1 teaspoon dried)
1 Cup sour cream
4 Small potatoes-quartered (optional)
8 Ounces of egg noodles
Sliced carrots can be added as well just after browning meat.
Heat olive oil in a large skillet over medium/high heat. Coat the meat in flour if desired. Brown meat a little at a time. Salt and pepper meat lightly. Add onion to the skillet and continue browning until onions are limp. Add garlic and continue cooking over medium heat for another minute.
Add the tomatoes, sauce, broth, herbs, spices. (And carrots if adding.) Save remainder of salt and pepper for a little later when you taste test first. As you are aware those canned items can have plenty of salt. Cover and simmer for 1 1/2 to 2 hours.
Add the potatoes in the last 30 minutes if you are using instead of noodles. Otherwise, cook the noodles separately as package indicates.
Just before serving add the sour cream to the the skillet contents. No need to bring to a boil … just heat through. Or instead of adding the sour cream serve on the side.
This is another one of my index card recipes … given to me by family or friend? Who? We never thought we'd forget anything in those days!