Not The Usual Slaw
Rutabaga or Turnip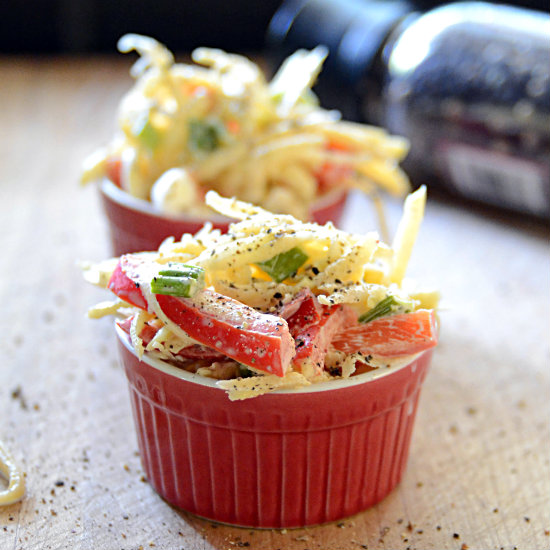 Have you ever heard of mashed rutabagas in place of potatoes for a Thanksgiving side dish? Or was it Christmas? Well, I have! What do you know about this vegetable? Maybe more than I because my knowledge is slim. Not so many years ago I'd be looking for turnips for a recipe and unknowingly pick up a rutabaga. (It's ugly cousin.) When my "turnip" cooked up yellow … yikes! If the top hadn't been removed (I tell myself now) and I hadn't thought they were turning a bit yellow because they were getting old I wouldn't have made such a mistake. Ha!
Did you know this root vegetable is a cross between a cabbage and a turnip. So, guess what! This slaw is versatile … make it with cabbage, turnips or rutabagas. And don't fear the ugliness of the rutabaga … it cleans up nicely and really doesn't taste much different from a turnip … neither having a strong flavor in my opinion. My excuse for ground black pepper!
Recipe
5 Cups peeled shredded rutabaga or turnip (or cabbage or mix it up)
1 Red bell pepper-sliced or green if you prefer (or jalapeño for a bit of bite)
1 Bunch of green onions-sliced (about one cup)
Dressing:
3/4 Cup mayonnaise
1/4 Cup cider vinegar (less for non-vinegar fans)
2 Tablespoons of sugar
1/2 Teaspoon salt
1/2 Teaspoon pepper
Mix the dressing until smooth and salt and sugar dissolve.
Pour dressing over prepared vegetables and mix.
Refrigerate for an hour or so to meld flavors.