Slow Cooker Soups
For A Month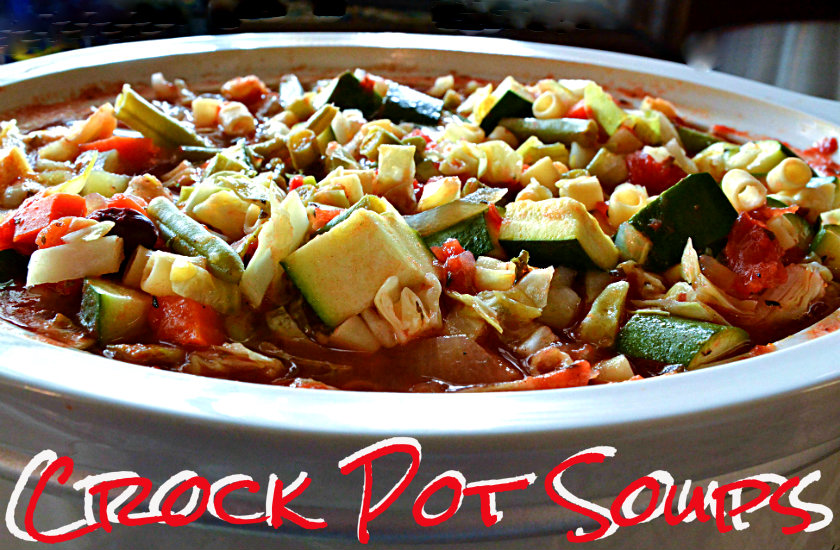 If you're like me and your soup recipes grow as you go you may want to start with a seven quart slow cooker instead of a four. I was definitely my grandmother's sous chef … learning very quickly that measuring soup ingredients was overrated. Today's soup recipe is no exception. Yep, it started overflowing. Just had to put in those extra veggies!  No excuse … I need a new slow cooker! Mine is a bit dated (still calling it a crock pot), not pretty like the new ones … And has only two functions, low & high heat.
If this looks like Minestrone it is! It's the first of my month long slow cooker soup recipes. I love the homey feel of a soup simmering all day … And a fireplace with a crackling fire to scoot up by. I'll be adding a few bread recipes along the way too. My Portuguese Rolls are perfect for tonight's soup!
Recipe
These recipe ingredients can all be layered in your crock pot with the exception of the cabbage, green beans, squash and pasta which are all added about 30-40 minutes before eating. If you prefer to have your veggies cooked well and melded into your soup add everything from the beginning except for the pasta. If you are making enough for several meals cook you pasta separately (al dente) and add to each meal as you go. Otherwise, your pasta will breakdown in the repeated heating process.
If you prefer to brown the stew meat, onions, celery and carrots do so and salt & pepper as you go.
1 Pound stew meat or roast meat cut into bite size pieces
1-2 Cloves garlic-minced
1 Sweet yellow onion-chopped
3 Carrots-diced
2 Ribs celery-diced
32 Ounces beef broth or stock (Or brown meat, onion, celery and carrots remove to crock pot then add water to drippings, simmer to loosen. Use this in place of broth. Add a beef bouillon cube if you like.)
28 Ounce can chopped tomatoes
1 Teaspoon thyme
1 Heaping tablespoon of dried parsley
15 Ounce can kidney beans (rinse before adding)
2 Cups chopped cabbage
1 Cup green beans-inch pieces
2 Small or 1 large zucchini squash-diced
1 Cup uncooked small pasta-like shells or ditalini
Salt & pepper to taste
Grated Parmesan cheese for sprinkling
Fresh parsley for garnish (optional) (Also can be subbed for dried parsley above.)
Layer first nine ingredients in slow cooker. Cook on low for 7-8 hours. Add remainder of ingredients after initial cooking time, and cook on high for about 30-40 minutes. If you only have uncooked dried beans; such as, white or pink beans … Clean the dried beans, picking out stones and rinsing. Add 3/4 cup uncooked beans at the time you add the first nine ingredients. Allow for expansion of soup with uncooked beans. Check for additional water need. Allow enough time for dried beans to cook … could take longer.
I'm getting ready to serve my soup now. Yep, the fire is burning!