Sun Giant Cookies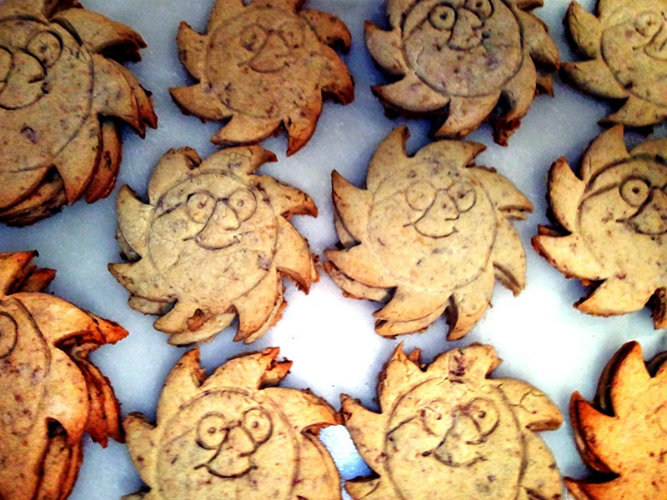 Over 30 years ago I purchased this smiley faced cookie cutter in three sizes with eight different cookie recipes. All were packaged together, attached to a Sun Giant box of raisins or dates, or a jar of almonds. This recipe is my favorite of the eight. Be prepared, these Smiley Cookies will bring smiles to your family's and friends' faces.
I made this recipe for my two oldest sons, 10 and 8 at the time. But this cookie became my favorite instead.
The texture is similar to a biscuit or shortbread. It is mildly sweet, and packed with dates, raisins and almonds. It is great with coffee!
So, anytime I need to bake myself happy I reach for this recipe. The Sun Giant can't help but make me smile.
I hope you enjoy this cookie too.
RECIPE
1/2 cup chopped dates
1/2 cup raisins
1/2 cup whole natural almonds
3 tablespoons water
1 cup butter
1 teaspoon vanilla
1 teaspoon rum flavoring
3 1/2 cups flour
1/2 teaspoon salt
3/4 cup sugar
1 egg
In a blender, grind almonds to meal. Set aside. In a small sauce pan combine water and dates, and raisins. Cook until mixture boils. Cool then pour into blender and puree.
In a medium bowl, cream butter and sugar. Add raisin mixture, egg, vanilla, and rum flavoring. Mix together flour, almond meal and salt. Add to butter mixture to form dough, mix thoroughly. Chill dough for a least 2 hours.
On a floured surface roll dough to about  1/4 inch thickness. Cut with cookie cutters. Place on ungreased cookie sheet. Bake in an oven that has been preheated to 350 degrees F. Bake for 12-15 minutes.
Smiley Cookies … Yum!