S'more Cake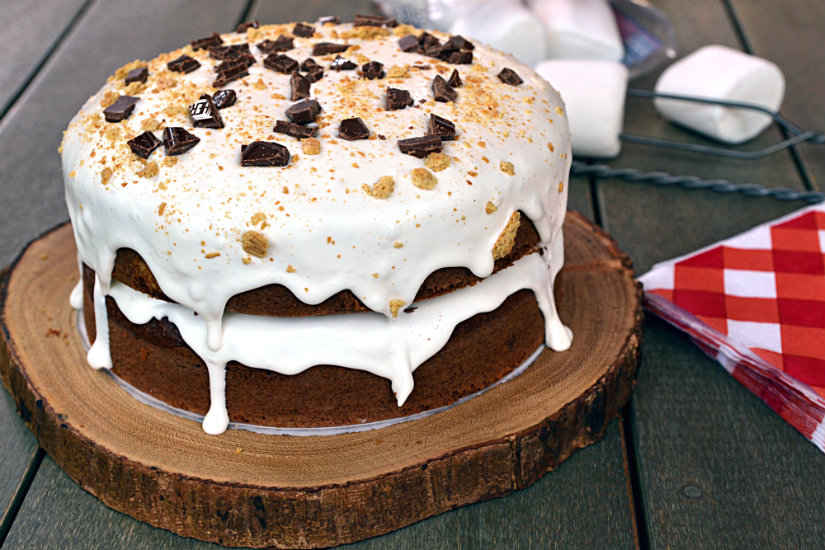 Did I say Picnic! The perfect dessert for the backyard barbecue. Yes, this is a doctored cake mix. But I have all the secrets to give this cake a homemade taste. Have you noticed the chocolate cake mixes are the most difficult to conceal that box taste. Even brownie mixes have that telltale taste. This is easily resolved by using a yellow cake mix and adding the cocoa, (better quality, I would bet). Here's the other issue with box mixes … They have become smaller in weight. Now every recipe you have using a cake mix is thrown off. The recipes might work but only sorta … texture is different and the overall cake size is smaller.
So, if you can find a 18.25 ounce box mix for this recipe you are ahead but if not, here is something you can do. First, what is the size of your cake mix? Most likely 15.25 ounces instead. You are now 3 ounces off. Here are some choices:
The Perfect Solution
Buy two box mixes. With the second box mix contents measure out 3 ounces by your kitchen scale. Add this to your first box mix contents and save the remainder of the second box for your next cake. One extra box will provide enough additional contents for 5 recipes … if converting to 18.25 ounces from a 15.25 ounce box. Does this make sense?
Almost Perfect
You say you don't have a kitchen scale. Neither do I. You can pour all the ingredients of the second box into a large multi-cup measuring cup and divide this measured amount by five. Then use this 1/5 as the amount to add to the ingredient shy box mix.
Stretching Perfection
First, there are approximately 2 tablespoons in a liquid ounce. How does that help us? It doesn't! That's trying to convert weight into a liquid measurement formula. OK, that understood, in my reading I have found, according to King Arthur Flour, 1 cup of all purpose flour is equivalent to 4.25 ounces weight. And since one cup is equivalent to 16 tablespoons then every tablespoon is .26 ounces. And if we use this math then 10 tablespoons would be equivalent to 3 ounces or close, 2.6 ounces. (Other reading I have found a claim that 6 tablespoons of all purpose weigh 1.75 ounces. Closer yet, .29 per tablespoon. I think we're good.) How does this work with cake mix ingredients? Is cake mix equivalent in weight to all purpose flour? Probably close enough. But let's take it a step further. How about just adding 10 tablespoons of all purpose flour to your 3 ounce shy cake mix and forget buying the extra box of cake mix that may end up wasted anyway. There you go!
Here, too, is another SMORE recipe for those days you're not into a whole cake. Or it's raining outside, Oven S'mores.
Recipe
Preheat oven to 350 degrees F. Use buttered and flour dusted cake pans, 8 or 9 inch rounds. Use parchment paper in the bottom-butter underneath the parchment and then butter and dust with flour on top. Don't forget the sides of the pan.
8 Whole graham crackers-coarsely chopped (reserve 1T for top of cake)
1 (18.25oz) butter cake mix
1 (3.4oz) instant vanilla pudding
1/3 Cup unsweetened cocoa
1 Cup sour cream
1/2 Cup water
1/2 Cup vegetable oil
4 Eggs
1 Cup milk chocolate chips
Divide the graham crackers between the two prepared baking tins covering the bottoms.
Add the cake mix to a large bowl and whisk in the instant pudding mix and cocoa.
Add the water, sour cream, oil, and eggs (one at a time-room temperature if possible). Mix until all ingredients are well incorporated.
Fold in the chocolate chips.
Spread the batter evenly into the two baking tins. And place into preheated oven.
Bake 25-30 minutes for the 9 inch and longer for the 8 inch. Do not over bake. Check doneness by pressing with your finger lightly. It doesn't need to bounce back if you feel spongy. Over baking is the biggest reason for a dry cake. Check with a toothpick in the center if not sure. Toothpick should be mostly clean. If the contents looks liquid-like on the toothpick it definitely is not done.
Remove from oven when done and cool about 10 minutes. Then remove from pans. Continue to cool to room temperature before frosting.
Marshmallow Cream Topping
1 Jar of marshmallow cream
1/4 Cup butter-room temperature
2 Cups powdered sugar
1-2 T sour cream-optional if topping is too thick
2 Small Hersey Chocolate Bars-roughly chopped
Beat the first 3 ingredients until fluffy. Add sour cream if needed.
Spread 1/2 over cooled cake layer. Sprinkle top with chocolate.
Add the additional layer and do the same.
Lastly sprinkle with the tablespoon of reserved graham cracker.