Sour Cream and Green Onion Potato Salad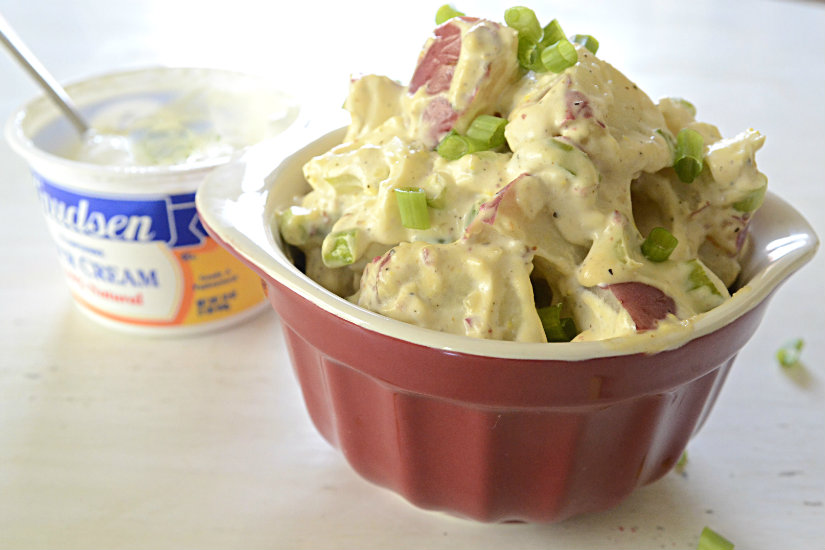 Each bite is a creamy potato taste. There are some options to this recipe making it either more traditional or adding everyone's favorite, bacon. Another make it your own recipe!
Try this as a side with my Meatloaf Stuffed French Bread.
Recipe
Serves 6
3 Pounds unpeeled scrubbed red potatoes-cut in half
2 Bay leaves
1/2 Cup favorite Italian Dressing
1/2 Teaspoon salt or salt to taste
1/4 Teaspoon pepper
1/2 Cup mayonnaise
1/2-2/3 Cup Sour Cream
2/3 Cup thinly sliced green onions (save small amount for garnish)
1/2 Cup thinly sliced celery (optional)
3 Hard boiled eggs-chopped (optional)
4 slices of bacon-cooked, drained and crumbled (optional)
Add halved potatoes to a pot large enough to cover potatoes slightly with water. Add the bay leaves and bring to a medium boil. Cook until a sharp meat fork pierces easily but not so much the potatoes break apart. About 20 minutes.
If including eggs, add enough water to cover the eggs in a small saucepan. Bring the water to boil. Remove from heat, cover pan and wait 15 minutes. Perfectly boiled eggs.
Drain the potatoes and then cut into bite size pieces. Toss warm potatoes with Italian dressing in a large bowl. Add the salt and pepper and toss. Let cool.
Add celery (if using), onions, mayonnaise to potatoes. Mix. Add eggs (if using) and mix. Do suggest holding celery if using bacon. Add bacon, saving a little for garnish.
Lastly add the sour cream and fold in. Taste for additional salt and pepper need.
Potato salad is always a bit better if you wait a bit, if you can, before eating to give the flavors time to intensify.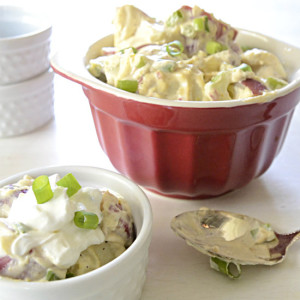 Sour Cream and Onion Potato Salad!