Spicy Hot Chicken Dip
with (Your Choice) Red Pepper Sauce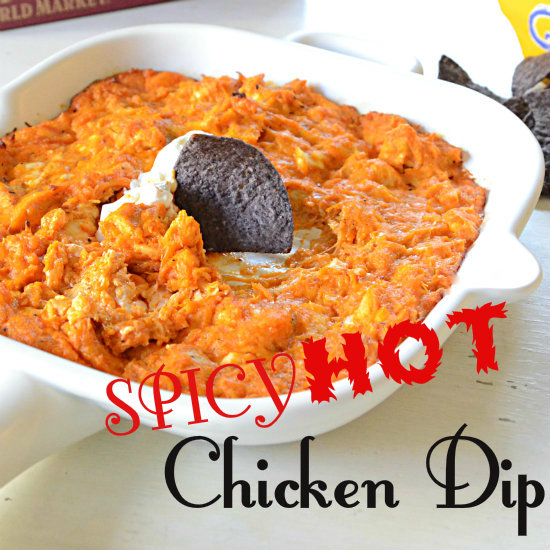 This is a great dip to make when you've left over chicken. You can make it taste like Hot Wings or if you're into Sriracha add this sweet tangy hot sauce instead. An easy Super Bowl appetizer that won't have you running to the grocery store if you're missing an ingredient … very forgiving and easy to substitute.
Rich and a little goes a long way!
Recipe
Preheat oven to 350 degrees F
2 Cups cooked chicken-torn into bite size pieces (I had cooked chicken breasts on hand.)
1/2 Cup mayonnaise (Here is my Milk Mayonnaise Recipe if you haven't any on hand. Yep, it makes up in minutes.) or use your favorite creamy dressing, e.g. blue cheese, ranch, Roquefort, but nothing too sweet
1/2 Cup red hot sauce, there are red hot sauces with Wings or Buffalo Wings written on the label-you can use one of these or opt for another red hot sauce
3/4 Cup shredded sharp cheddar cheese
8 Ounces cream cheese-room temperature
1/2 Cup Sour Cream for garnish or stir into warm out of the oven dip (optional)
This is a moderately hot dip. For more heat add a bit more red sauce or add thinly sliced jalapeño or serrano peppers or combination. Remove the seeds and membrane from the peppers before slicing-this is where the intense heat originates. Careful while handling not to touch your eyes or lips. Wash hands thoroughly after.
Mix all the ingredients together (except for 1/4 cup of the cheese and the entire sour cream). Place into a baking dish and bake for 35 minutes.
Garnish with sour cream and the remainder of cheese or stir in the sour cream after the dip has cooled slightly, sprinkle with cheese.
Serve with tortilla chips.