Light Spicy Tomato Soup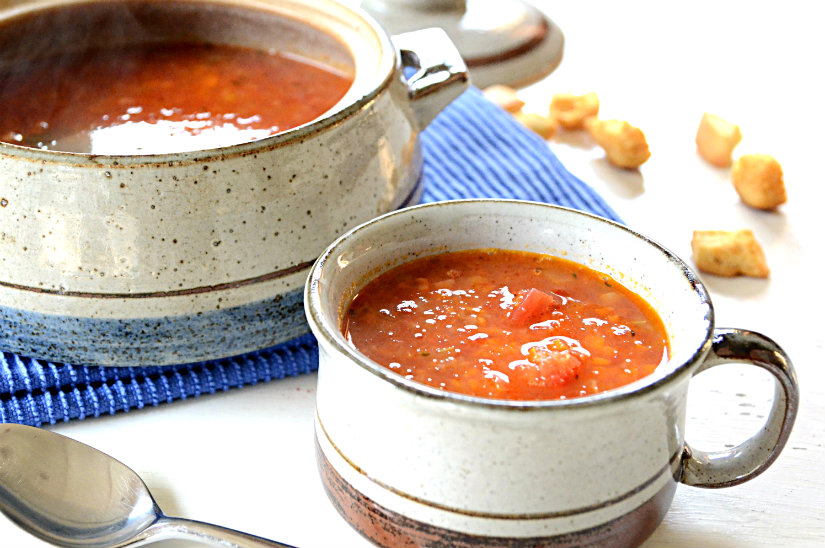 Here's the Spicy Tomato Soup to go with our sandwiches. It's light but not in taste, and satiates. It has a bit of a Portuguese influence without garlic. If you enjoy garlic add a few garlic croutons. I love this!
Recipe
4-6 Servings
3 Tablespoons butter
1/2 Cup of each (finely chopped) mild onion, celery, carrots
2 Pounds Roma tomatoes-peeled, seeds removed
4-5 Cups Chicken Broth
1 Teaspoon salt and more to taste if necessary
1/4 Teaspoon white pepper
1/2 Teaspoon Thyme
Pinch Marjoram (optional)
1 Bay leaf
10 Peppercorns
4 whole cloves
Sauté onion, celery and carrots until very tender but not browned over medium/low heat in a skillet large enough to accommodate the entire soup.
Chop the tomatoes (For easy peeling guide check this * at the end of the recipe for Puttanesca)
In a blender (or food processor for puree, I prefer some texture so use a blender instead) add one cup of room temperature chicken broth and half the prepared tomatoes. Blend until the texture you like. Pour into a bowl. Next add another cup of chicken broth and the other half of the prepared tomatoes and the room temperature sautéed vegetables into the blender, and again blend to desired texture. Pour all, that in the bowl and the blender contents, into the skillet. Bring to a simmer over low heat.
Place the peppercorns and cloves into a tea strainer or spice bag and add to the contents of the skillet along with other spices, salt and pepper, bay leaf and remainder of the chicken broth. Use all 5 cups of chicken broth if you prefer a thinner soup.
Simmer for 30 minutes and you are there. Remove the bay leaf and spice bag or strainer before serving.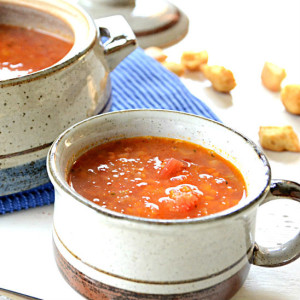 Delicious!