Sautéed GREEN BEANS, OLIVE OIL TOASTED BREAD AND MORE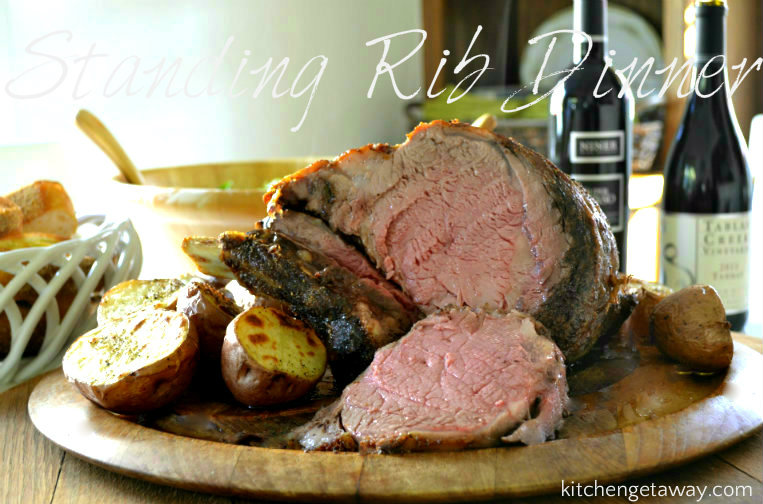 A great meal for guests … And this recipe won't keep you in the kitchen. My family was happy with this tasty meal during the holidays. A great presentation with little preparation. Standing Rib Roast Dinner.
This standing rib roast, small end, was just over seven pounds with three ribs (ribs were cut away and tied) … enough to serve 6-8 adults.
Recipe
Standing Rib Roast
Preheat oven to 450 degrees F
Reduce oven to 350 degrees F after the first 20 minutes of cooking.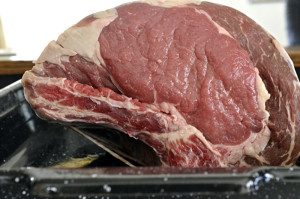 Place the meat into a roasting pan.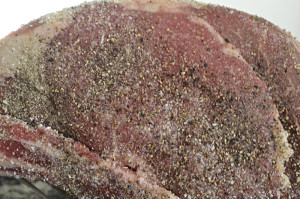 Coat the meat, all sides, in fresh ground pepper and garlic powder. I have used garlic salt, instead of garlic powder, without creating a dry result but often this is not recommended. That's it … no extras needed.  The meat will take between about 15-20 minutes per pound for medium rare with an internal temperature of 130 degrees F. The best way to check for doneness is with a meat thermometer. Place meat in preheated oven at 450 degrees F. After 20 minutes turn oven to 350 degrees and continue cooking until done. Begin checking for doneness with the meat thermometer in the last 30 minutes. Remember the meat will continue to cook after it is removed from the oven. For medium rare remove the meat from the oven when the meat has reached 125 degrees F. Let stand for 20 minutes.
Roasted Red Potatoes
In the last hour of cooking your rib roast add red potato halves to the roasting pan with the meat. If the potatoes are small there is no need to slice. I recommend coating the potatoes with a little olive oil before adding to the meat. Salt and pepper too. If the meat finishes cooking but the potatoes need more. Remove the meat from the roasting pan … Turn the heat to 400 degrees F and cook potatoes until slightly golden.
Sauteéd Green Beans
Heat skillet with 2-3 tablespoons of olive oil over medium heat.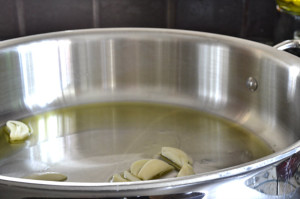 Add two cloves of sliced garlic to the oil and sauté for a minute.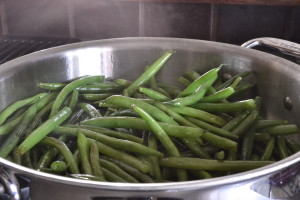 Add 2 pounds of green beans a little at a time to the hot skillet. Sauté until the beans begin to brown. Add a sprinkle of garlic salt. Add 1/4 cup water, cover and cook an additional two minutes.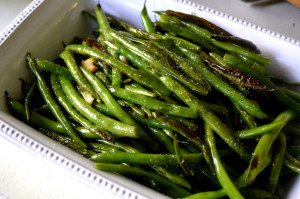 The green beans will be slightly firm and maintain the bright color.
Olive oil toasted bread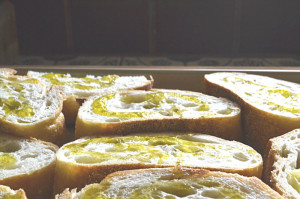 This is a sliced sourdough bread loaf placed on a non-stick cookie sheet. Sprinkle or drizzle olive oil over the top of each slice. Very lightly sprinkle each slice with garlic salt or not. Place into broiler that has been heated for several minutes. Watch closely. These will brown up quickly. The result is a buttery tasting toast without the sogginess butter creates. Believe it or not … some family members can't tell the difference. A variation: add a sprinkling of Parmesan cheese to each olive oil drizzled slice before popping into the broiler. Easy and tasty!
For the green salad try a good sprinkling of your best olive oil, and equally seasoned rice vinegar. Another easy yet tasty idea!
Our red wines came from two nearby wineries, Tablas Creek and Niner. Just the perfect enhancement to an already wonderful meal.
Bon Appetit!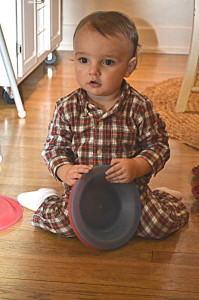 My Helper!