Steak Stuffed Bakes
Super Bowl Party Finger Food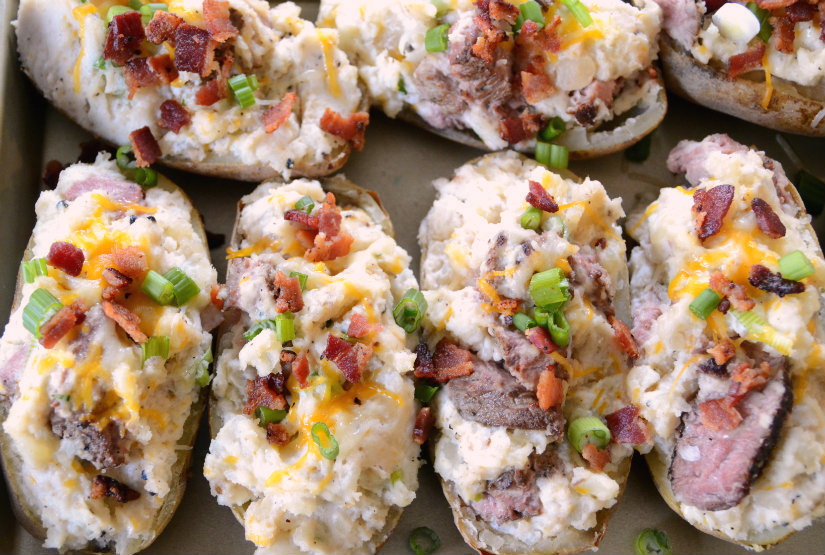 Finger food is a little misleading … You can easily and neatly eat these with your hands.
If you're a meat and potatoes fan you'll be so into these! What I like about this for a crowd … First, it's amazingly delicious! Secondly, each provides a serving … It's easy to calculate for a crowd. For appetizers a potato half for each guest.
Stephen, I know you're gonna love these!
Preheat oven to 350 degrees F
6 Large Russet potatoes-baked and cooled slightly, this size and number of potatoes in my oven takes well over an hour, up to 1 1/2 hours or more (Ovens vary, be sure to check earlier @ 50-60 minutes)
3+ Pounds rib-eye steak-bone in or out-pan seared to your liking, recommend medium rare
Freshly ground pepper for covering the steaks
8 Tablespoons of butter
2 1/2 Cups sour cream, more for garnish-optional
1 Cup shredded cheddar cheese + 1/4 cup for sprinkling
1/2 Cup sliced green onions, more for garnish-optional
1/4 Pound bacon-fried for bacon crumbles, garnish-optional
1 1/2-2 Teaspoons salt
1/2 Teaspoon black pepper or per taste
Start with the potatoes. Purchased the same size potatoes and without blemishes. If you decide to choose smaller potatoes make sure they are uniform in size. And be aware this recipe is for large … You will need more small potatoes to keep ingredients proportional. And bake time may need adjusting. Scrub the skins thoroughly. Use a fork and poke tines into the skin around the potato surface. Bake until when squeezed they give slightly. Remove and cool slightly.
While the potatoes are baking cook the bacon and drain thoroughly. Cool. Crumble. Set aside.
Have all the other ingredients measured to bring this recipe together quickly. Then reheating ingredients will not be required.
During the last minutes of potatoes baking or while they are cooling pan sear your steaks. Before searing grind fresh black pepper over the steaks heavily, both sides. If you don't have a skillet large enough for all the steak pan sear the steaks separately. Check out this post for pan searing tips, Bearnaise Sauce. Have a thermometer for checking steak internal temperature if you're not sure about doneness. Know the steak continues to cook after you remove it from the heat. We usually eat our steak rare but for this recipe I suggest medium rare, 130-135 Degrees F, to avoid juices running into the potatoes. A one inch steak pan seared takes about 8 minutes total depending upon the heat of the skillet. Again remember it continues to cook after removed from heat. Always let the meat rest before cutting to avoid juice loss. For this recipe allow the steak to rest for 10-15 minutes before slicing. Slice thin across the grain. Remove all fat and bone. Then any long pieces can be cut to about 2 inches in length. This makes it more manageable for eating without utensils.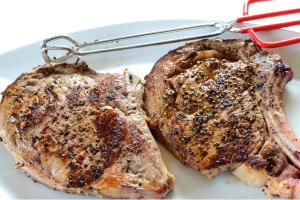 Cut the baked potatoes in half lengthwise. Scoop out the potato but leave a little layer against the skin to avoid poking all the way through the skin. Place the warm potato into a large bowl. Set aside the skins on a large cookie sheet. After scooping all potatoes cut the butter over the top of the potato filling to allow melting. Add part of the salt and pepper and mash potatoes and stir with a hand potato masher. Roughly mash … There will be some small lumps for texture.
Add the sour cream, cheese and green onions into the potato mix and stir thoroughly. Taste for salt and pepper. Add more if needed. Keep in mind you have not added the peppered steak yet, however.
Fold in the steak to avoid loosing juice into the potato mixture.
Sprinkle the potato skins inside lightly with salt. Spoon generous amounts of filling evenly among the skins.
Sprinkle with cheese, followed by onions and bacon bits.
Eat promptly if you desire these warm. Have they cooled too much? Pop into a preheated oven, 350 degrees F, for about 8-10 minutes.
Enjoy!