Strawberry Dessert
Baked Strawberry Shortcake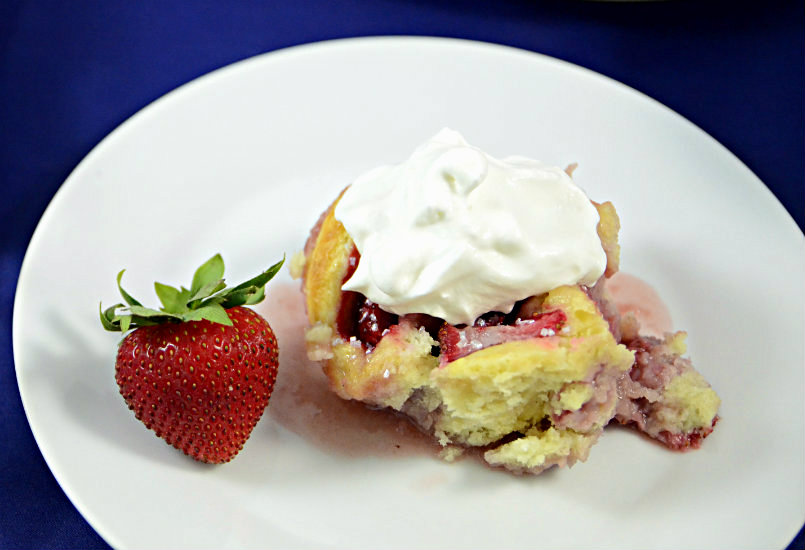 Everyone loves strawberries … well almost everyone! This is the time of year fresh strawberries are plentiful. This is packed with strawberries. Would you believe two pounds! Time for strawberries, shortcake and whipped cream topping.
This recipe is not difficult and there is wiggle room for imperfections. Delicious? I should say so! And what is amazing … this Baked Strawberry Shortcake is not cake like nor is it soggy like strawberry shortcake can be. It is meant to be eaten warm from the oven, and works well served at room temperature. Leftovers are not likely but refrigerate any you may have and eat the next day … cold. There you have it, warm, room temperature or cold … It works!
Recipe
Preheat oven to 425 degrees F
Bake for 30 minutes or until golden brown on top and bubbling
Serves 8-12
2 Pounds fresh strawberries-washed, stems removed and sliced 1/8-1/4 inch thick (save several whole strawberries with stems for garnish)
1 Cup + 2 tablespoons sugar-this will provide 3 separate measurements: sauce, shortcake and sprinkling
1 Cup water for sauce
2 Cups all purpose flour
1 Scant Tablespoon baking powder
1/2 Teaspoon salt
1/2 Cup butter-cold
2/3 Cup milk
1 Egg
Sauce
Bring 1 cup water, 3/4 cup sugar and 2 cups sliced strawberries to a low boil. Turn down to a simmer and cook 10 minutes, stirring occasionally.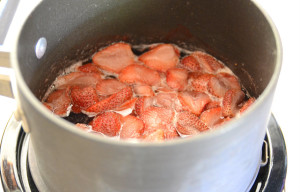 While the sauce is cooking … In a large bowl add the flour, 2 tablespoons of sugar, baking powder and salt. Whisk. Add the butter and cut into the flour mixture as you would for a piecrust.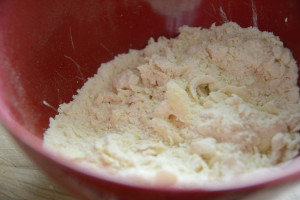 Next add the milk and whisked egg into the flour mixture and stir until just mixed. It will be lumpy.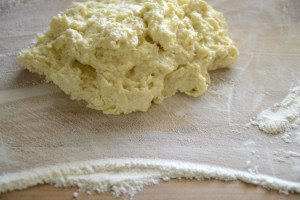 Place the dough onto a floured surface and form a ball. Roll out the dough to 12 inches by 8 inches.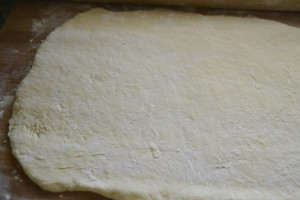 Layer the dough with the sliced strawberries in a single layer. Sprinkle with 1/4 cup sugar.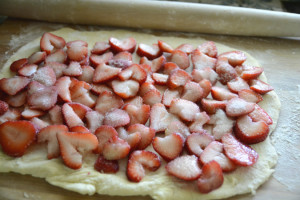 Roll the 12 inch edge toward opposite 12 inch edge and seal. Go slowly. Next slice across the roll approximately every inch.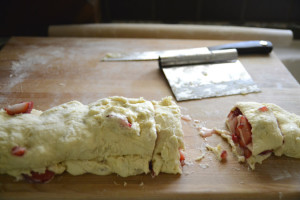 Pour the thin sauce into your 2 and 1/2 quart baking dish. A 13 inch by 9 inch oblong is a little too large. My baking dish here is 11 inches by 7 inches. Yes, an odd size.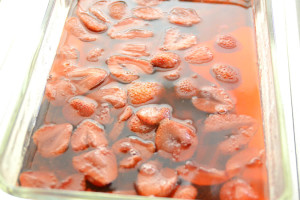 Place the dough slices on top the sauce. Cut side up. Bake.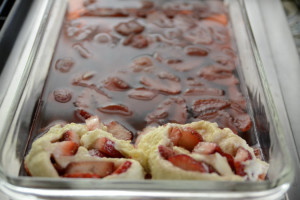 Whip heavy cream for the topping.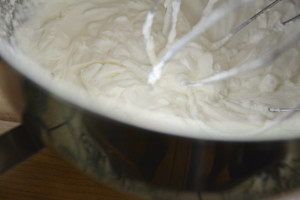 For the topping: whip 1/2 pint heavy whipping cream. As it begins to thicken add about 1/4 cup powdered sugar and 1 teaspoon vanilla. Continue beating until just stiff but still creamy.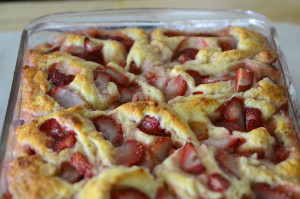 Optional: Sprinkle lightly with white decorative sugar.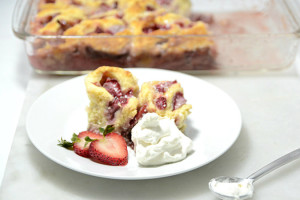 YUM!