Stroganoff Recipe At Its Best
Try this one! Made with Chicken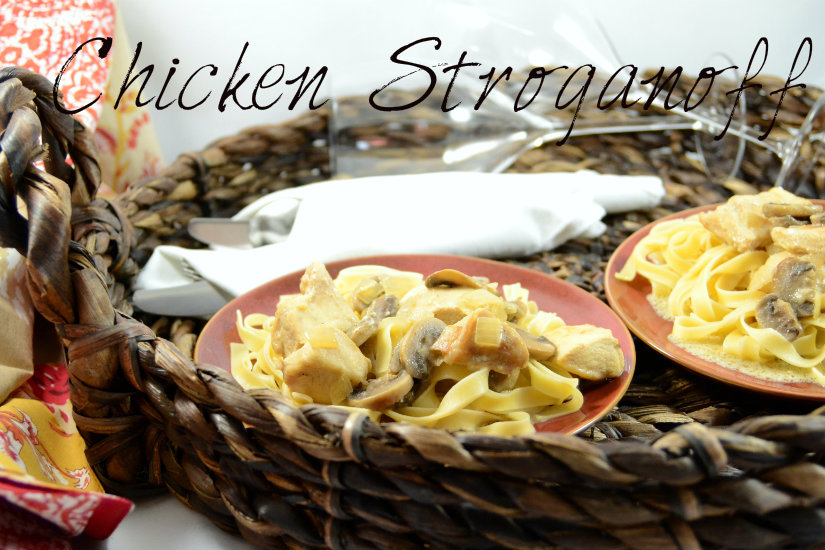 Looking through my recipes I came across one for beef stroganoff … My friend Cathy's recipe carefully handwritten for me. Thank you again! I did make this recipe over the years and shared it with a friend or two. It was wonderful.
As I looked at the ingredients I realized I could make some changes … for one, beef to chicken. Recipes as friendships need a little change up to fit the changing times … Sometimes to become healthier and provide more exciting ingredients for the sophisticated palate of today. The other major changes, no cream of mushroom soup … chicken broth instead, and fresh mushrooms added. This is a simple recipe and fast too. On the table in thirty!
Try this Stroganoff at its Best with Chicken! Hope you enjoy it too, my dear friend.
Recipe
Serves 4 Adults
1 1/2 Pounds skinless boneless chicken breasts cut into bite size pieces
1/2 Cup flour for dusting chicken
2 Tablespoons butter
2-3 Tablespoons olive oil
8-12 Ounces white mushrooms-sliced
1/2 Cup diced yellow onion
2 Cups chicken broth
2 Bay leaves
Pinch of garlic salt
Salt and Pepper to taste
1 Cup sour cream
1-2 Tablespoons corn starch or 2-3 tablespoons of flour-This is OPTIONAL for thickening if needed. If using add either cornstarch or flour to 1/2 cup water. Stir until dissolved. Do not pour all at once into mixture. Further instructions when to add follow.
8 Ounces of tagliatelle or egg noodles-cooked per instructions-drain
In a large skillet melt butter over medium heat and then add mushrooms about half at a time to avoid lowering the heat of the skillet. Sauté until lightly brown. Remove and set aside.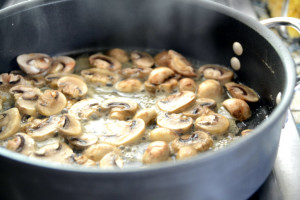 Next add onion to the skillet and sauté until tender. Remove and set aside.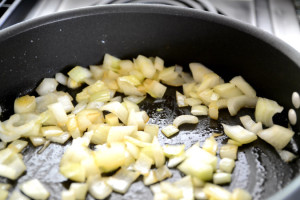 Add the olive oil to the skillet and bring heat back up in skillet. Add the chicken to the skillet after dipping it lightly in flour and shaking off the excess.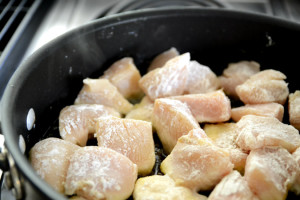 Lightly brown the chicken. Sprinkle lightly with garlic salt.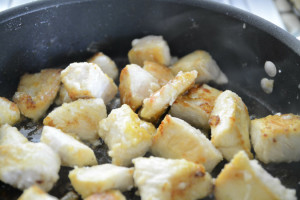 The browning will take about 5-10 minutes. Remove the chicken and drain off oil. Next, add back all the cooked ingredients.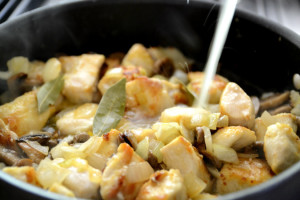 Add the chicken broth and the bay leaves.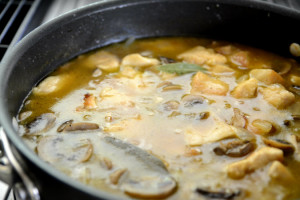 Simmer without a lid for about 10 minutes. Taste test for salt and pepper need. After simmering for 10 minutes the sauce should have thickened … it should be the consistency of a cream soup. If it isn't, use the thickening suggested in the ingredients section above … either cornstarch or flour mixed in water. Only pour a small amount of thickening at a time, stirring as you add, giving the sauce time to thicken after each addition. After thickened heat through then turn off the heat. Fold in the sour cream, remove the bay leaves and serve on top of the hot egg noodles.
Wow! Really Delicious!