Stuffed Bell Pepper Soup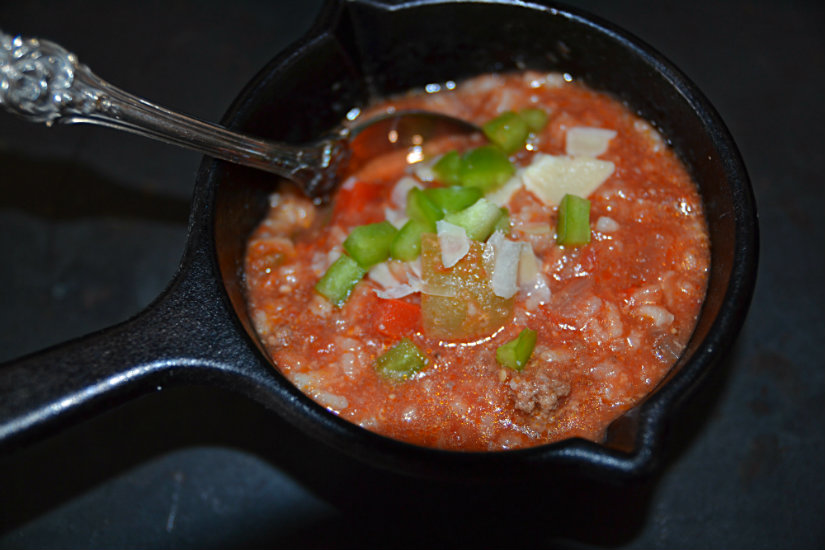 This was my own idea but if you check it's been done before. I'm into soups especially these last days since my heater pooped out. I was going to make stuffed bells in my crock pot and opted for this soup instead. The recipes are very similar actually. While you can cook this recipe in a slow cooker there really isn't a reason. It's so fast right on the stove top. And oh my goodness, I was on it with this! It's totally delicious!
Here's another recipe too! Made with turkey, brown rice and a little Italian spice.
Recipe
1 Tablespoon olive oil
1 Cup diced onion
1 Pound ground beef
Salt and Pepper
28 Ounce can crushed tomatoes
2-3 Teaspoons Worcestershire sauce
1 Large green bell pepper-chopped (dice up about 1/4 of the bell pepper to use as garnish)
1 Large red bell pepper-chopped
2-3 Cups chicken broth
Water to thin soup if desired
1/4-1/2 Teaspoon tabasco sauce
2 Cups cooked white rice
2 Cups shredded sharp cheddar cheese (save some for garnish)
Salt and Pepper to taste
Begin sautéing onion in olive oil over medium/high heat … dutch oven is best for cooking this. Add ground beef a little at a time to maintain the dutch oven heat … so meat can actually browns a bit. Otherwise the meat tends to 'boil' in its own juices. Salt and pepper the meat as you go.
Add the tomatoes, bell peppers, chicken broth and the two condiment sauces.  Simmer on medium/low heat while you cook the rice separately. Adding uncooked rice just makes this soup too thick. It will be thick enough.
Add the cooked rice and cheese to the simmering soup. Stir well. Taste for need to salt and pepper.
It's ready!
Garnish with uncooked diced bell pepper and shredded cheese.
Here I am snuggling up close to the fire! This is what you do when the heat goes out!