Ann's Super Spaghetti Sauce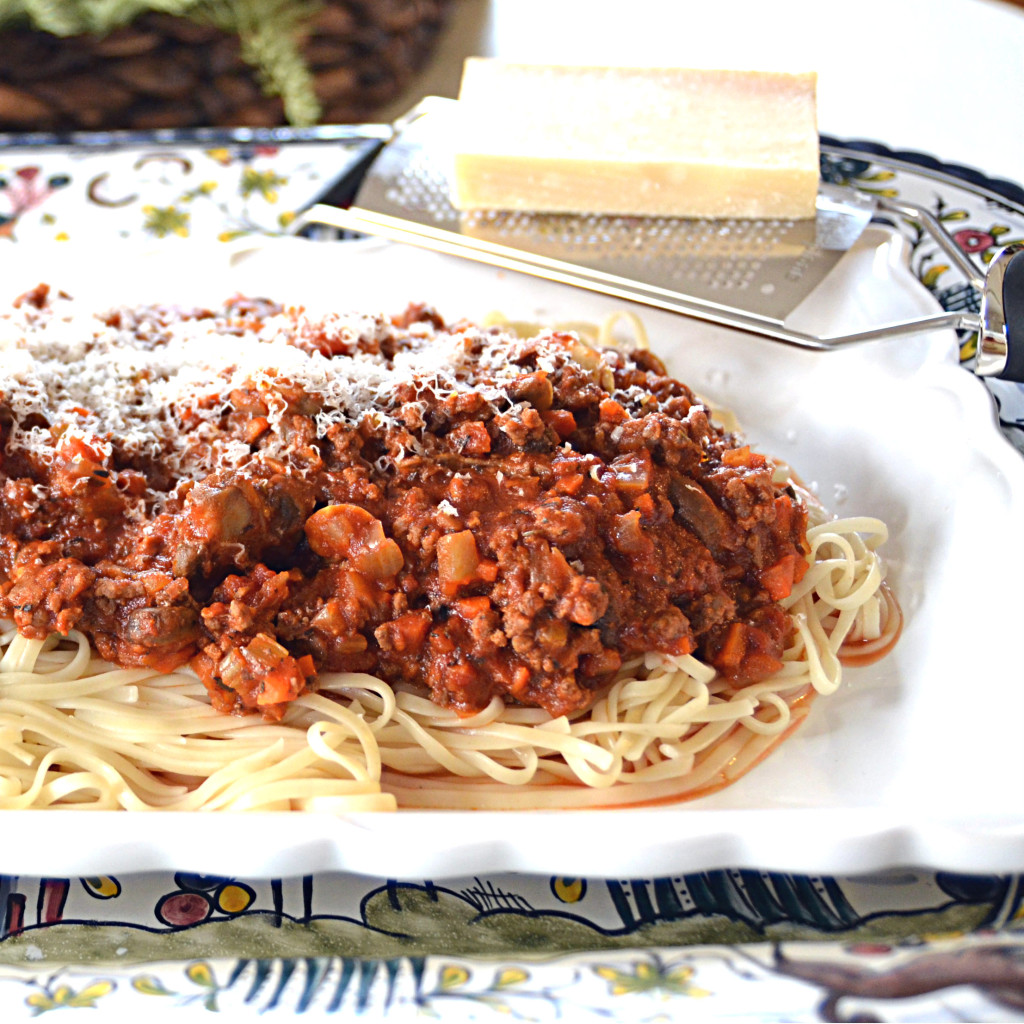 Ann's an amazing cook as well as a brilliant College Educator (Political Science, History, Economics … Yikes!), part-time Copywriter and she even entertains the idea of occasionally working at a nearby bookstore to be close to one of her favorite hobbies. So while she might spend all day in the kitchen putting together a special meal or dish, for the most part it's just not practical with her schedule.
This sauce is so rich you'll be convinced it's been fussed over all day. Enjoy Ann's Super (Fast) Spaghetti Sauce Recipe.
For a closer look at this lovely Portuguese Platter (exclusive at William Sonoma) check it out here. Marked down approximately 50% from the original price. Love Portuguese pottery. Thanks Ed. 😉
Recipe
Serves 6 to 8 hungry adults
4-5 Tablespoons olive oil
2 Carrots-peeled and finely diced
2 Stalks of celery-washed and finely diced
1 Medium sweet yellow onion-finely diced
1 Pound (or so) of 80-85% lean ground beef
1 Heaping teaspoon of each of the following: dried oregano, dried basil, dried thyme
Salt and Pepper to taste
2 Large cloves of garlic-peeled and smashed
1 Pound sliced mushrooms
28 Ounce can whole quality tomatoes (I recommend Italian or Roma tomatoes)
15 Ounce can tomato sauce
6 Ounce can of tomato paste
1 Large bayleaf
1 Pound of your favorite pasta-cooked al dente
Grated Parmesan or Romano for sprinkling
Heat 2 tablespoons of olive oil over medium heat in a sauce pan or skillet large enough to accommodate all ingredients. Add the carrots, celery and onion and cook until onion is translucent but not browned. Remove from heat. (Helpful hint: a food processor can be used to chop the carrots, celery and onion after these vegetables have been precut in 1 1/2 inch pieces. Avoid pureeing.)
In a separate skillet over medium heat brown the beef. If not using a non-stick skillet coat skillet with a tablespoon of olive oil before browning. Salt and pepper the meat. Drain meat of excess fat. Pour cooked meat over sautéed onion mixture. Add dried spices and mix. (I suggest just a hint of garlic salt sprinkled over meat as well.)
In the same skillet used for the meat add one to two tablespoons of olive oil over medium heat and the garlic for a few minutes. Do not brown garlic. Remove garlic to the onion/meat mixture. Then add the mushrooms to the garlic olive oil you just created. Avoid overcrowding mushrooms. Cook mushrooms just to the point of browning.
While cooking the mushrooms in the separate skillet add the whole tomatoes to the onion/meat mixture. Breakup the tomatoes with your spoon as you stir. Turn heat to medium/low. Add the tomatoes sauce and paste. Stir well.
Now add the mushrooms to the onion/meat/tomato mixture and the bayleaf too. Turn heat to a low simmer and cover skillet with a lid. Cook 30 minutes or leave at a low simmer for longer if you choose.
Recipe options:
Add a finely diced bell pepper to the other veggies when you sauté if you'd like.
Ground turkey can be substituted for the beef.
See Ann's steps in her photos below:
Thank you daughter-in-law for this delicious spaghetti sauce recipe!