Simple Tea Ring
Make It Sweet or Savory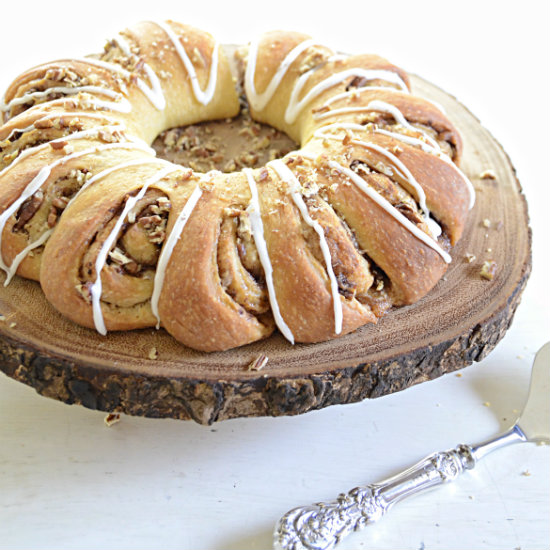 This family favorite can be made just about anytime. The second rising can be delayed by refrigerating over-night (up to 24 hours) for an early morning breakfast addition or a dinner time pleaser. Cinnamon Pecan this time! But another favorite is Turkey Cranberry. Change up this simple recipe to please everyone. This recipe is one you'll want to add to your favorites. It fills the kitchen with a lovely aroma. And gives the feel of Fall. I bet an apple filling would delight too.
Recipe
This is baked in a preheated oven at 350 degrees F for approximately 25 minutes.
One packet of rapid rise yeast
2 1/2 Cups of all purpose flour (extra for kneading and rolling)
2/3 Cup milk-scalded
1/4 Cup sugar
1/4 Cup butter or shortening
1 Teaspoon salt
1 egg-beaten
1/2 Teaspoon vanilla
Filling
1/4 Cup softened butter
1/4 Cup brown sugar-packed
1 Teaspoon cinnamon
1/2 Cup pecan pieces
In a large mixing bowl whisk the yeast into the flour. Set aside.
To the heated milk add the sugar, butter or shortening, and salt. Mix well and set aside to cool slightly. Too hot and it will kill the yeast.
To the flour and yeast mixture add the milk mixture, egg and vanilla and stir.
Remove to a floured board and knead for about 3 minutes until smooth.
Place dough into a large greased bowl.Turn dough over once to grease both sides. Cover bowl with towels and place in a warm area about 75-80 degrees F until double in size about 2 hours.
Roll dough into a rectangle about 13 inches by 9 inches on a lightly floured surface.
Spread evenly with softened butter.
Sprinkle with brown sugar, then cinnamon and pecan pieces.
Roll the longest side toward the longest side as you would a jelly roll. Seal the edges and place onto a non-stick or lightly greased cookie sheet. Form into a ring and seal the ends together. With a pair of kitchen scissors cut through the top of the dough going around the ring about even inch, cutting almost to the bottom. Gently stretch and twist the ring to open the cuts slightly.
Cover and place in a warm area to rise a second time until doubled about 30-60 minutes. If dough has been refrigerated this process may take up to approximately 2 hours.
Bake in the preheat oven until golden brown. Enjoy!
For drizzle mix 1 cup of powdered sugar with a teaspoon of soften butter, 1/4 teaspoon vanilla and enough milk to thin to a drizzle. Tip: add 1 teaspoon of milk at a time until the mixture is thin enough to drizzle but firm enough to hold shape. Ring must be cooled before adding.
Savory
When mixing the dough decrease sugar to 2 1/2 tablespoons.
Replace the filling with the following:
1/3 Cup white sauce
1/2-3/4 Cup cooked turkey breast-small cubed
1/4-1/2 Cup diced sweet onion that has been sautéed in butter until tender.
1/4 Cup roughly chopped dried cranberries