Swiss Chard & Pasta with Cognac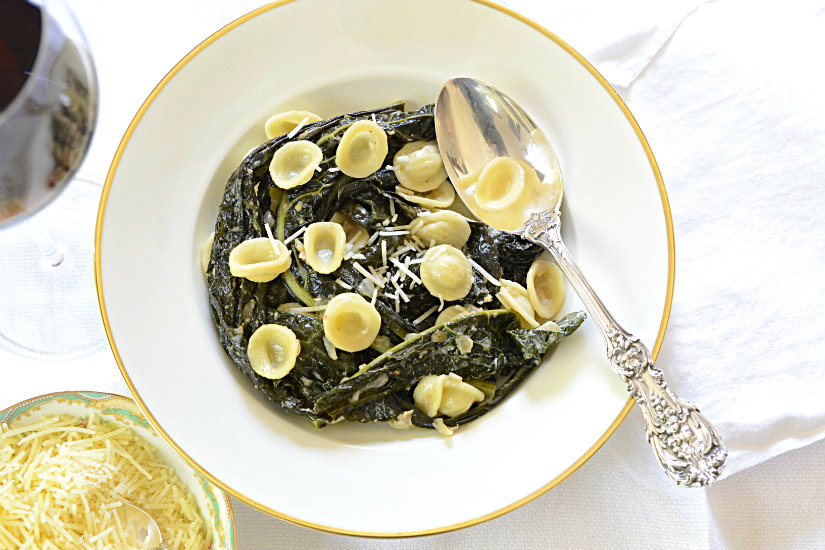 Love Swiss Chard! Team it with pasta and it's perfect. I love the young tender colorful variety of chard I grow in my garden but this year with our current drought I was not as inspired. So, off to my local market! Now, the choices in my market are not many. I'm just excited to see fresh Swiss Chard even if it's mature with large tough stalks. Just remove the stalk and the spine that travels up the leaf … It works! What remains is a tasty green to add to this pasta dish. Add a little Cognac and this simple dish dazzles. Just ask my guy. Yes, we like to accompany this with a nice wine and prosciutto, and it's our main dish.
Recipe
Large bunch of Swiss Chard-about two pounds after stalks are removed
1 Medium sweet yellow onion-diced small (about one cup)
1 Clove garlic-minced
1 Tablespoon of olive oil
1/4 Cup Cognac
1/4 Cup vegetable or chicken broth or milk or water
1/4 Cup heavy cream
1/2 Pound orecchiette-cooked al dente
1 Tablespoon of your best tasting extra virgin olive oil
1/2 Teaspoon of salt and freshly ground pepper
Rinse the chard and remove the stalk (including the spine running up the center by folding the leaf in half and cutting up the back of the leaf) Cut the leaves in half, across. Set aside.
Heat the cooking olive oil over medium heat and add the onion to a large skillet. You will need a lid for the skillet later. Cook the onion for a few minutes but do not brown.
Add the garlic and continue cooking onion and garlic together for about two more minutes.
Add the Cognac and turn the heat up to cook off the alcohol. Once this is done turn heat down to low.
Add the chard and cover to steam to tenderness. Add the liquid (broth-milk-or water). Cook, still on low, until al dente about 10 minutes. Or cook longer if desired.
In the meantime, cook the pasta in salted water until al dente.
Add the cream to the chard and heat but avoid excess heat. Now add the pasta and special oil to the skillet with the Swiss chard mixture. Salt and pepper and mix thoroughly.
It's ready!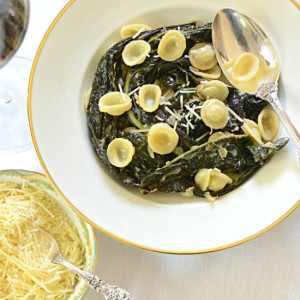 Grated Parmesan Sprinkled