Tamale Pie with Cornbread topping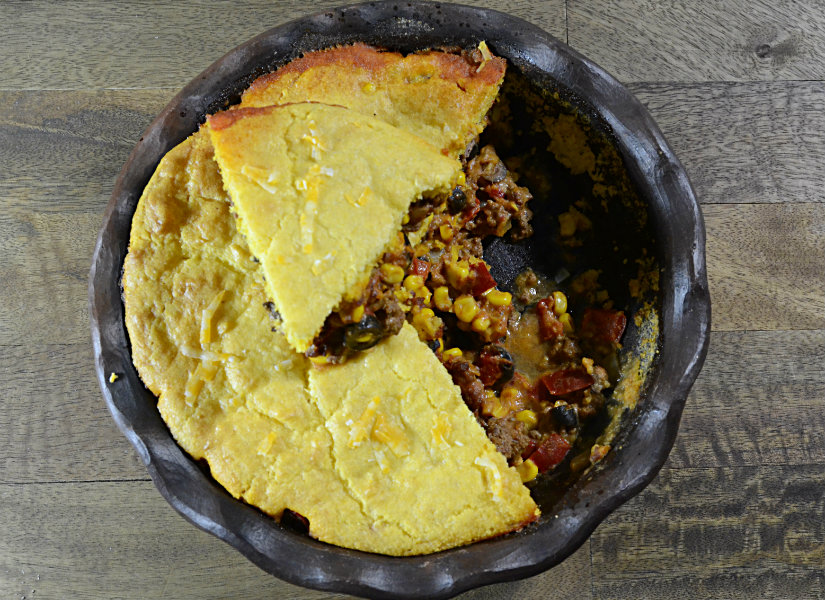 Many of my friends remember this as a kid. It was even Doug's favorite. There are so many versions of this casserole I thought I'd add my own. I don't remember my mother's. It was rarely made and everyone in the family shied away including me. If my mother's tasted anything like this I definitely missed out.
Tamales and Tamale Pie have little in common. Tamale Pie came about with the popularity of Mexican Cuisine … Although not a traditional dish it does have a special place on the table. It's a hardy tasty economical meal!
Give it a try. And if you're in a big hurry … leave off the topping, skip the baking and enjoy. Yes, it's delicious this way too.
Recipe
Preheat oven to 350 degrees F
After the cornmeal topping is in place bake for 30-40 minutes until golden, browning around the edges, and the filling is bubbling
1 Tablespoon olive oil
One pound hamburger-recommend 85% lean
One yellow onion-chopped
1 Clove garlic-minced
1 Red bell pepper-diced
15 Ounce can tomato sauce
1 1/2 Cups frozen corn
4 Ounce can sliced black olives
1 Teaspoon salt
1 Tablespoon chili powder
1/8 to 1/4 Teaspoon cayenne pepper-optional
6 to 8 Ounces mild or sharp cheddar cheese-shredded
Heat the olive oil over medium heat in a large skillet and add the onion. Sauté until limp.
Add the garlic and continue cooking another minute.
Add the red bell pepper and continue cooking for several minutes until the pepper is slightly softened.
Add a little of the hamburger at a time keeping the temperature of the skillet even. Cook until it loses its color and then drain fat.
Add the sauce, corn, olives, salt, chili, and cayenne if using. Bring to a simmer.
Add all but about 1/3 cup of the cheese and stir to just mixed. Pour into a greased 9 inch square baking dish or a cast iron skillet or deep dish pie dish. Set aside.
Topping:
1/2 Cup cornmeal
1/2 Cup all purpose flour
1/3 Cup milk
2 Teaspoons baking powder
1/4 Teaspoon salt
1 Egg-hand beaten
1/3 Cup shredded cheese
2 Tablespoon vegetable oil or melted butter
Pour all the ingredients except cheese into a bowl and whisk until just mixed. Stir in cheese.
Pour the ingredients over the filling and spread lightly with a knife to cover.
Bake.
EAT!