Tapenade Spread or Dip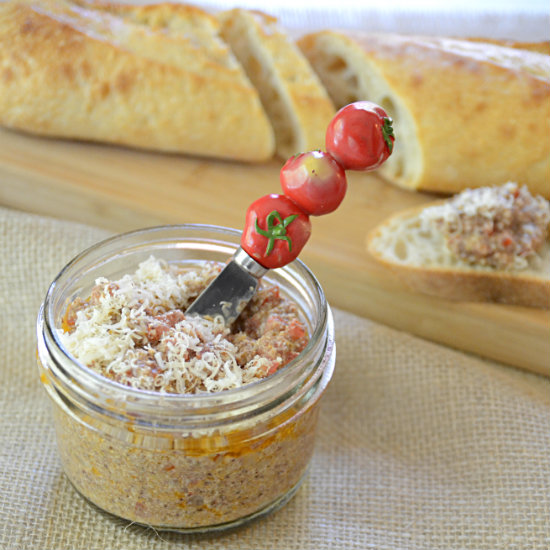 Serve this as crostini or bruschetta Or just serve with crusty bread. Pita chips? Not so much.
Tapenades … Don't they usually contain sardines and olives? Skip the sardines this time and let's make this great appetizer that can become dinner if you're not careful … it's filling!
Recipe
Makes generous 2 cups
5 Roma tomatoes-finely diced after all seeds removed (makes about two cups diced)
1/2 Cup pitted kalamata olives-rinsed in cold water and drained
1/3 Cup pine nuts
1/4 Cup Parmesan-grated
1/3 Cup extra virgin olive oil-more to drizzle
5 Green onions-trimmed and chopped
Fresh basil or Italian parsley to taste
Pepper (optional)
Salt (optional, cheese and olives will add the salt)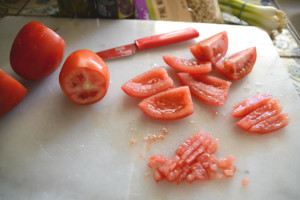 Dice the tomatoes. Add to a four cup bowl.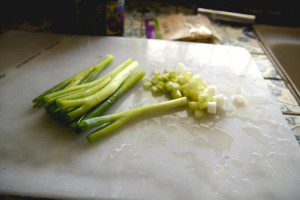 Trim green onions and then chop.
Add all ingredients except 1 1/2 cups diced tomatoes and olive oil into your processor. This includes pepper and fresh herbs. Process until well blended. Taste for additions needed.
Slowly drizzle the olive oil through the appropriate opening in the food processor while the processor is blending another minute.
Fold the blended ingredients into the remainder of the diced tomatoes. Ready to spread.
That Easy!