Tartlets
Lemon Curd & Raspberries with Chantilly Cream
Blueberry with Chantilly Cream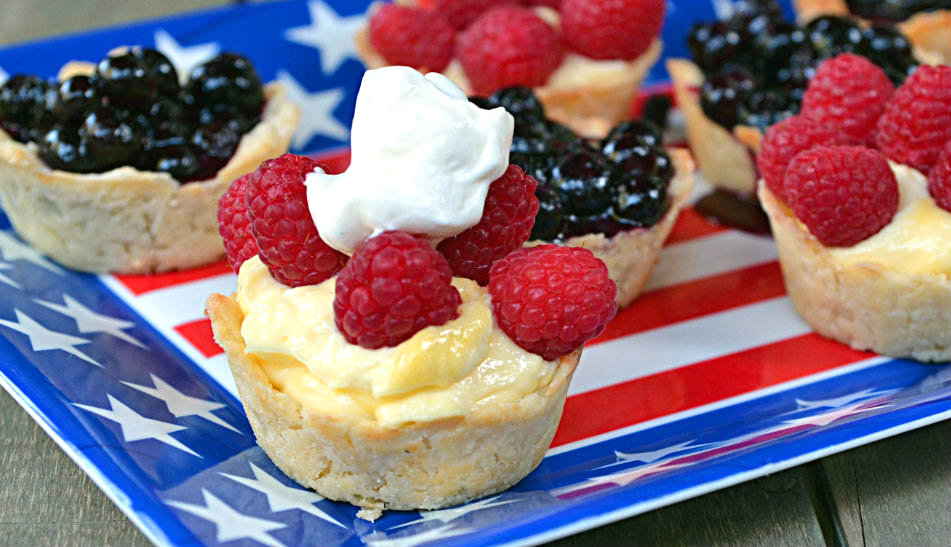 Love this dessert. Absolutely perfect for the Fourth! The rich crust is amazingly simple with only three ingredients. The flavorful Lemon Curd is refreshingly tart. And the Chantilly Cream is just what's needed to tame a bit of the tartness. The blueberries with just a hint of nutmeg are juicy delicious. Red-White-Blue … Happy Fourth of July!
Recipe
Preheat oven to 375 degrees F just prior to baking crust. Crust can be made ahead and even frozen for use at a later time.
Use a standard size muffin tin, preferably nonstick. You may need to butter tin lightly if not non-stick.
Crust (makes 12 tartlet crusts)
1/2 Cup butter-not overly firm from refrigerator
4 Ounces cream cheese
1 Cup all purpose flour
Add 1/4 teaspoon salt if using unsalted butter
Whisk flour and salt together. Cut in the butter and cream cheese until crumbly. Roll dough into 12 equally sized balls.
Place each ball into a muffin cup and press until uniformly thin (no holes) throughout entire cup. If dough is too sticky to work with place into refrigerator for about 30 minutes before this process.
Refrigerate for about 20 minutes to firm up dough before placing into preheated oven.
Bake 15-20 minutes, or until lightly brown. Remove from oven and let cool. Crust should pop right out when a knife is placed along side of muffin cup and crust.
Fill cooled cups and refrigerate as needed.
Lemon Curd Cream Cheese Filling
Filling for 6 standard size muffin cups. They will not be filled to the brim.
2 Eggs
1/3 Cup sugar
1/4 Cup fresh lemon juice
1 Teaspoon lemon zest
4 Ounces cream cheese-room temperature
Beat eggs until light and fluffy. Better with a beater than by hand.
Place the first four ingredients into a saucepan over medium to medium/low heat. Stir constantly until the curd thickens. It won't take long. If you are fearful of scorching turn the heat down.
When thickened remove from heat and let cool. Stir occasionally to help cooling process.
Add the cream cheese to the cooled curd (does not have to be room temperature to begin this). Beat in the cream cheese.
Fill cooled crusts with curd and refrigerate. Serve with raspberries, raspberries & blueberries, or plain and Chantilly Cream.
Blueberry Filling (fills 6 crust cups)
2 Cups fresh blueberries (frozen in a pinch)
1/2 Cup sugar
2 Tablespoons flour
1 Tablespoon fresh lemon juice
1/2 Teaspoon lemon zest
Dash of nutmeg
Place all ingredients in a medium sized saucepan over medium/low heat. Stir/fold the ingredients carefully to avoid breaking up berries.
Bring to a simmer and stir frequently. Continue cooking until berries begin to form juice and begin to thicken again. Thicken to just under a pie filling consistency. It will get thicker when cooled.
Cool and pour into cooled crust. Refrigerate or not. Serve with Chantilly Cream.
Chantilly Cream
1 Pint heavy whipping cream
4 Tablespoons powdered sugar
1 Teaspoon best vanilla
Refrigerate bowl and beaters before use.
Beat the cream on high until just begins to hold shape, not stiff.
Add powdered sugar and vanilla and continue beating until stiff but still creamy. Not too stiff or the cream will resemble butter.
These recipes are delicious. It's a promise!