Tex Mex Vegetarian Lasagna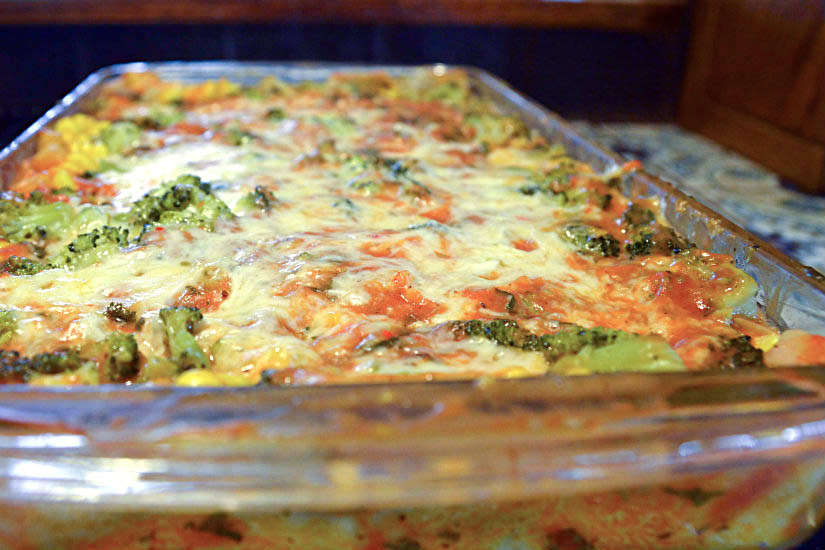 Today is Pasta Sunday, and I decided to do a changeup! You know how some vegetarian lasagna recipes are just missing something (like meat!). Well, with this recipe you don't even go there! This recipe has all the ingredients it needs to be perfectly delicious. My guest was surprised to find the sauce has V-8 … mainly because he doesn't like V-8, or is it Worcestershire? Actually, I use both in cooking and normally don't mention it to him. No Worcestershire in this recipe!
Lots of good ingredients. And a very surprising vegetarian lasagna!
Recipe
Preheat oven to 375 degrees F.
3- 5.5 Ounce cans V-8 or about 2 cups
1 Cup milk
1/4 Cup all purpose flour
1/2 Teaspoon dried oregano
1/2 Cup chopped cilantro
Salt to taste
Tabasco-optional
No cook lasagna noodles-I used Barilla, only 6 strips
2 1/2 Cups shredded pepper jack cheese
2 1/2 Cups broccoli florets-chopped and parboil
1 1/2 Cups corn-frozen, or fresh cooked on the cob and cut (about 2 ears)
1- 7 Ounce can fire roasted whole green chiles-cut length-wise
8 Ounces ricotta cheese
Optional-1 cup chopped yellow or red onion-sautéed in a little butter or olive oil until limp
Grated Parmesan for sprinkling
In a saucepan stir flour into V-8 and milk then turn to medium/low heat. Bring almost to a simmer. Sauce will begin to thicken. Stir frequently. Add the oregano and cilantro. Salt to taste. Add a little Tabasco if desired. Set aside.
In an oblong dish, 9″ by 13″ will do, (I used one a little smaller and did have spillage in the oven.) pour about 1 cup of the sauce and spread evenly.
Add three of the noodles side by side across the bottom of the dish … placing in a non-traditional way-the longest part of the noodle fitting the shortest side of the dish.
Dot the noodle with the ricotta then layer with chiles. top with half the shredded jack cheese.
Add 3 more noodles-layered as before. Spoon a little of the sauce over each noodle. Add the corn and florets over the noodles. (Add the onion if using.) Add the remaining sauce evenly over all. Sprinkle with remaining jack cheese.
Cover the dish with parchment paper and then foil to seal. Bake in preheated oven for 45 minutes.
Remove the cover and sprinkle with Parmesan. Serve!