Texas Sheet Cake Roll
Good Idea Or Not!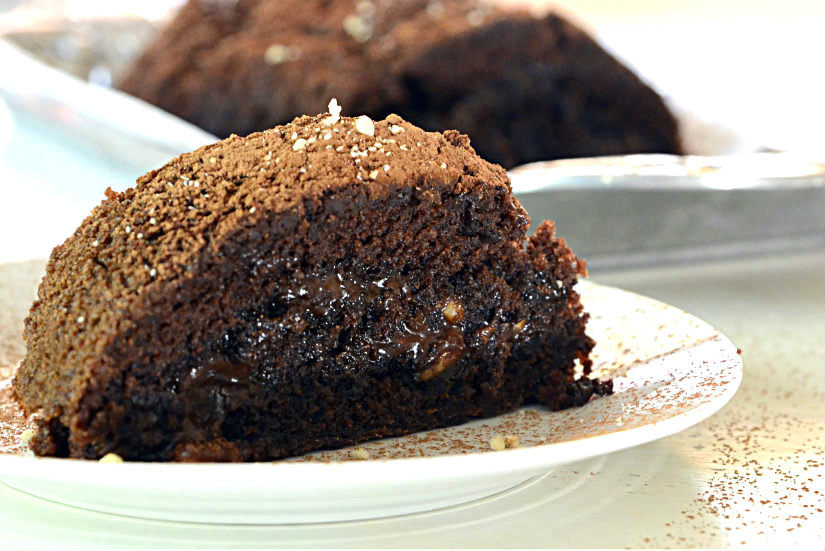 This might have worked if I'd gone about it at a slower pace … Letting things cool a bit … rolling the cake in a towel sprinkled with powered sugar. But iffy at best. This is a heavy cake not spongy like most cake rolls. Why did I even attempt this? It seemed like a good idea at the time … It wasn't just an exercise … It was about presentation.
Have you tried a slice of Texas Sheet Cake? It's amazing! And can feed a crowd. But let's say you're not having a barbecue and you want to have this moist delicious chocolaty cake for a more formal event. The sheet cake presentation, well, is lacking.
So, here is my Texas Sheet Cake recipe but unrolled.
Recipe
Preheat oven to 375 degrees F
Use an 18 inch by 13 inch sheet cake pan. If attempting a cake roll cut the recipe in half and use a 9 inch by 13 inch rimmed pan. Prepare the pan by greasing and flouring. If trying a roll use wax paper to fit the bottom but running up the short ends a bit to help with lifting from the pan-grease under as well as on top of the paper.
Cup of water
Cup of oil (or 1 cup butter-melted)
4 Tablespoons of cocoa
2 Cups flour
2 Cups Sugar
1/2 Teaspoon salt
2 Eggs
1/2 Cup Sour Cream
1 Teaspoon baking soda
Bring the water, oil and cocoa to a slight boil.
In a large bowl add flour, sugar and salt, whisk.
In a small bowl whip the eggs by hand and add the sour cream and baking soda, mix.
Add the heated mixture to the flour mixture and mix by hand until all is incorporated.
Fold in the egg mixture. Pour into prepared pan and bake 20 minutes or until springs back when lightly touched in the center.
Frosting
1/2 Cup butter
4 Tablespoons cocoa
4-6 Tablespoons milk
Dash of salt
One pound box of powdered sugar
1 Teaspoon vanilla
1 Cup chopped pecans or walnuts
Bring butter, cocoa and 4T milk to a simmer. Remove from heat.
In a large bowl add the powered sugar and salt, whisk.
Pour heated ingredients over the dry and mix.
Add the vanilla and mix.
Option: add the nuts now and mix into frosting or sprinkle after you spread the frosting on the still warm cake.
For a jelly roll (not recommending but fun to try)
Divide the cake recipe in half and bake in a 9 inch by 13 inch rimmed pan.
After baking rest for about 5 minutes.
Lift the cake from the pan by grabbing the waxed paper on either short end and flip onto a powered sugar sprinkled dish towel. Remove waxed paper. Sprinkle top with powered sugar. Roll cake short end to short end wrapping around with towel as you go. Cool completely.
Unwrap the cake carefully and spread with the frosting (thin the frosting with the additional tablespoons milk as needed). You may need the entire frosting recipe, not divided as the cake recipe. Sprinkle with nuts.
Roll cake into a log and place seam down on a plate. Sprinkle with unsweetened cocoa.
ENJOY!