Tomato Corn Cheese Soup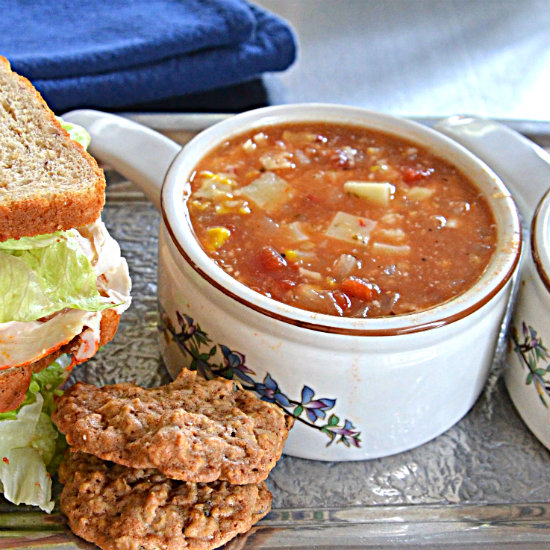 Trying to remember all these soups growing up and am puzzled at my memory lapse. Is this really my mother's recipe box?! Yes, the recipe is in her handwriting. Another quick delicious soup. Hoping Dad was treated to these delicious soups. A lunch just for you Dad.
20 Minute recipe! Great for Soup & Sandwich! Enjoy!
Recipe
1 Tablespoon olive oil
1/2 Sweet yellow onion-diced very small
2 Cloves garlic-minced
1 Teaspoon dried oregano
3 Cups beef broth
1 15 Ounce can tomatoes
1 15 Ounce can creamed corn
3/4 Cup small cubes Jack cheese (Pepper Jack is good)
Ground Pepper and Salt to taste
Sauté over medium heat the onion in the olive oil in a skillet large enough for all ingredients.
Add the garlic after the onion is fork tender. Continue the sauté for 1-2 minutes.
Add the broth, tomatoes and herb. Bring to a simmer. Simmer for 10 minutes.
Add the corn and heat through.
Add cheese. Stir to thicken. Cheese need not be well incorporated through out.
Serve up soup and garnish with extra small cubes of cheese.