Belly Button Mac N Cheese
Tortellini, A Different Style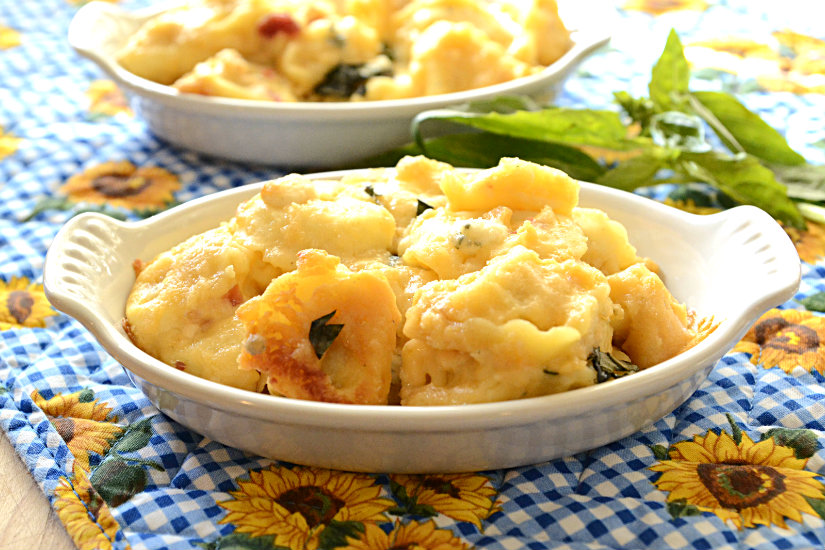 And then there's Ina Garten … Cheesy dishes are one of her specialities. When I say cheesy there is no other way to put it. If you aren't into cheese just forget it! Some years ago my oldest son requested her 5 Cheese Penne Pasta for his birthday dinner. Little did I know one of the guests didn't like cheese. Can you imagine! She didn't tell me directly but she stirred her food to appear eaten. With four kids I knew what that meant.
This beats any cheesy recipe Ina has but in reality it's a make over of her Mac N Cheese. Be prepared … this is so rich just a little will do you.
Recipe
Bake in a preheated oven at 350 degrees F for 40 minutes
6-8 Servings
16-20 Ounces cheese tortellini
3-4 Ounces pancetta-chopped
1 Quart milk
2 Tablespoon butter
1/2 Cup all purpose flour
12 Ounces grated gruyere cheese
8 Ounces Sharp/extra sharp cheddar cheese-grated
3 Ounces gorgonzola cheese
Basil
Fresh tomato slices-optional
Marinara-optional
Cook tortellini according to directions. Drain and pour into a large greased baking dish.
Cook pancetta in a large sauce pan over medium heat until slightly browned. Remove with a slotted spoon and set aside.
Heat milk in another sauce pan over medium/low to just below a simmer.
Pour grease from pancetta sauce pan but retain the stuck on drippings.
Add the butter after cooling the pancetta sauce pan a bit. Now add flour and heat to bubbling slightly.
Slowly add the heated milk to the flour mixture stirring constantly. Continue cooking until it begins to thicken.
Add the cheeses to the heated milk mixture and stir until smooth.
Pour over the tortellini and bake.
Serve over fresh tomatoes or heated marinara or not.
Garnish with chopped basil leaves.