Estrada's Kitchen Look A Like Taste A Like
Tostada Compuesta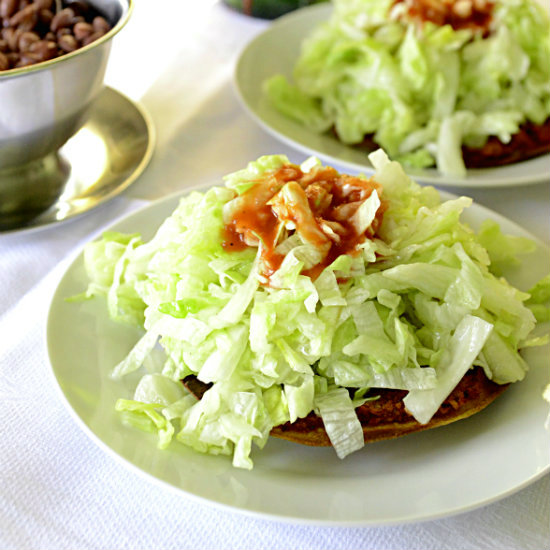 This looks simple enough. And perhaps you might be feeling a little too simple for your palate. But I promise this salad will surprise you! A few of the techniques in building this Tostada Compuesta create the distinctive flavor and shouldn't be skipped. You've heard me boast about Estrada's Spanish Kitchen. I've been fortunate enough to come across an enchilada sauce recipe that tastes just like theirs. If you wish to try it out just let me know and I'll send the recipe. My brother has given the recipe a try and, it's spot on! And for those interested in the Chile Relleno give my recipe a try. It's so so close.
There you have it! A complete meal!
Recipe
4 large salads or 6 small
Beans First:
One pound red beans-pick out stones and rinse, soak overnight. You will have extra cooked beans left over from this recipe. They are great alone or over rice. 2 cups cooked beans will be used to make refried beans for this recipe. Canned refried beans do not work here.
1 Tablespoon leaf lard-organic if possible (Totally can't do lard? Use a quality cooking oil without residual flavor.)
2 Cloves garlic-peeled and smashed
1 Teaspoon salt, more if needed
Sauté garlic in the lard over medium/low heat in a dutch oven or heavy bottomed pot for about one minute. Add drained soaked beans that have been lightly rinsed. Add enough fresh water to cover by one-two inches. Bring to a simmer and cook for about 2 hours. Add the salt after the beans have become slightly tender, about 1 to 1 1/2 hours into cooking. Taste after added for additional need.
While the beans are cooking continue with the following:
Lettuce Preparation:
One large head iceberg lettuce-core and wash, after draining cut in half and half again, then shred with very narrow slices. In the post photo the lettuce appears thickly sliced. 1/4 inch and less is good. Place in a bowl and cover. Refrigerate to crisp.
Salad Dressing: (Make 2 hours ahead to achieve deeper flavor, keeps refrigerated for 24 hours)
2 Cloves garlic, peeled
1 Teaspoons salt
1 Cup white vinegar (or red wine vinegar or combination)
1/3 Cup cooking or salad oil, do not recommend olive oil unless very light with no olive taste)
1/4 Teaspoon ground pepper
Use a mortar and pestle or the back of a spoon and a small bowl. Mash the garlic and salt together and form a paste. Add all ingredients to a jar and shake vigorously. Let set at room temperature for about 2 hours or less if needed. Pour through a fine strainer before using.
Hot Sauce:
1 Cup of El Pato Tomato Sauce pushed through a strainer with the back of a spoon then measured
1/3 to 1/2 Cup plain tomato sauce depending on the need to lower the heat of El Pato. No more than 1/2 cup or the sauce begins to taste like tomato sauce and not hot sauce
1/4-1/2 Teaspoon pepper
Mix ingredients together and set aside. Serve extra on table for those that enjoy lots of hot sauce.
Refried Beans:
3 Ounces of Mexican chorizo (Not all chorizo is created equal. The next time around I'll be choosing one with less redness, chili powder or paprika? Perhaps trying beef chorizo.) Chorizo is essential to this recipe for the slight flavor and texture it gives to the refried beans.
2 Teaspoons of lard (again use oil if you are not able to use lard)
2 cups of red cooked beans with 1/4 cup bean juice-mashed thoroughly with a potato masher
Remove the casing from the chorizo and cook in a heavy skillet and drain off the fat. The chorizo I used had very little fat. The result from cooking should be small crumbles of meat. Set aside.
For ease use a nonstick skillet for refried beans. Add the lard over medium heat and melt.
Add the mashed beans to the melted lard and cook to heat through. You can mash in the skillet as you heat.
Add the cooked chorizo and thoroughly mix. Set aside.
Putting It All Together:
You'll need yellow corn tostada casera 4-6 (These are precooked (yellow) corn tortillas. Trying to cook corn tortillas to this texture and crispness is difficult and these precooked tortillas not only make this easy but the taste is hard to duplicate.)
Heat broiler to Hi
Strain the salad dressing to remove any garlic pieces. Pour the salad dressing over the shredded lettuce in a large bowl. This needs to be done in the last few minutes to avoid soggy lettuce result. Not to worry, the excess dressing will go to the bottom of the bowl. Mix with you hand.
Spread the tostada with about 1/4 cup of refried bean mixture. Spread evenly. Place into broiler and watch carefully. This will only take a minute or two. Broil the tostada until the edges are approaching a deep golden brown.  If you have a salad plate equipped to take the heat this is best. The idea is to have the dressing (wet salad) evaporate as it hits the hot plate and tostada … causing the sizzle.
Immediately after removing the plate from the oven mix the salad with your hand again and then scoop with your hand a large amount of dressed salad, letting it drip/drain first, and place onto the hot tostada. I have large hands and it takes about two handfuls.
Ladle with a large scoop of hot sauce.
"Careful the plate is hot!" Enjoy!