Triple Layer Cookie Bar
Shortbread Brownie Chocolate Chip Bar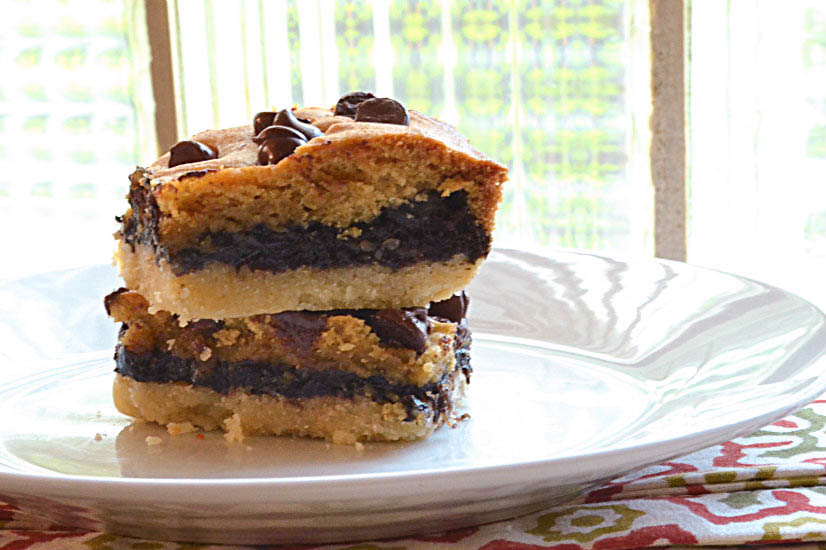 Motivated by the Brookster. Didn't even know about The Brookster or Baked until my recent trip to Tribeca. The cookie was amazing. Thought about recreating it, two of my favorite cookies baked together. Weeks went by and I hadn't made any cookies at all … unusual since I love homemade cookies right from the oven. I began feeling cookie deprived, craving my favorites. Why not bake my three favorites together. Know it will work! And here it is, a three layer cookie bar!
Take a tour of Baked while I put together the Triple Layer Cookie Bar recipe.
Recipe
Preheat oven to 350 degrees F.
Use an eight by eight inch baking dish. No need to butter.
Each cookie layer is made separately and then baked together. Note: Salted butter was used. If you use unsalted butter add 1/4 teaspoon salt for every 1/2 cup butter. (a pinch, 1/8t, for each the brownie and chocolate chip layers)
Shortbread first:
1/2 Cup butter-room temperature
1/4 Cup sugar
1/2 Teaspoon best vanilla
1 1/4 Cup all purpose flour
Beat together the the butter and sugar until fluffy. Beat in the vanilla. Mix in the flour slowly until crumbly. Press into ungreased baking dish. As you would a cheesecake crust this can be pressed up the sides of the baking dish slightly to thin out this layer. Place into refrigerator will putting together the other ingredients.
Brownie Layer:
1/4 Cup butter-room temperature
1/2 Cup sugar
1/2 Teaspoon best vanilla
1 Small egg
2 Tablespoons best unsweetened cocoa
1/3 Cup + 1 Tablespoon all purpose flour
1/4 Cup chopped nuts
Beat the butter and sugar thoroughly. Add the vanilla and egg and continue until well mixed. Whisk together the flour and cocoa. Mix in the flour until just incorporated. Fold in nuts. Set batter aside.
Chocolate Chip Layer:
1/4 Cup butter-room temperature
3 Tablespoons packed dark brown sugar
3 Tablespoons sugar
1 Small egg
1/4 Teaspoon best vanilla
1/4 Teaspoon baking soda
1 Cup + 2 Tablespoons all purpose flour
1/2-3/4 Cup best chocolate chips
Beat butter and sugar until fluffy. Add egg and vanilla continue until well mixed. Whisk together the flour and baking soda. Add to butter mixture and mix until just incorporated. Set aside.
Layering:
Remove baking dish from refrigerator and spoon brownie mix in dollops over the surface. Spread with a knife. This goes easily.
Next add the chocolate chip mixture (without the chocolate chips) in small dollops close together over the brownie layer. Then spread gently with a knife. This can be sticky … go slowly.
After all layers are in place add the chocolate chips overall. Press ever so slightly.
Place baking dish more toward the bottom half of your oven for the initial baking. This gives the shortbread a better opportunity to brown up. About half way through the baking move the baking dish to the center of the oven to allow the top layer time to turn golden. Baking time will very 35-45 minutes. Please note the brownie is a fudge brownie and will not cook up like a cake brownie.
Enjoy!