TriTip Salad Dinner
One Dish Meal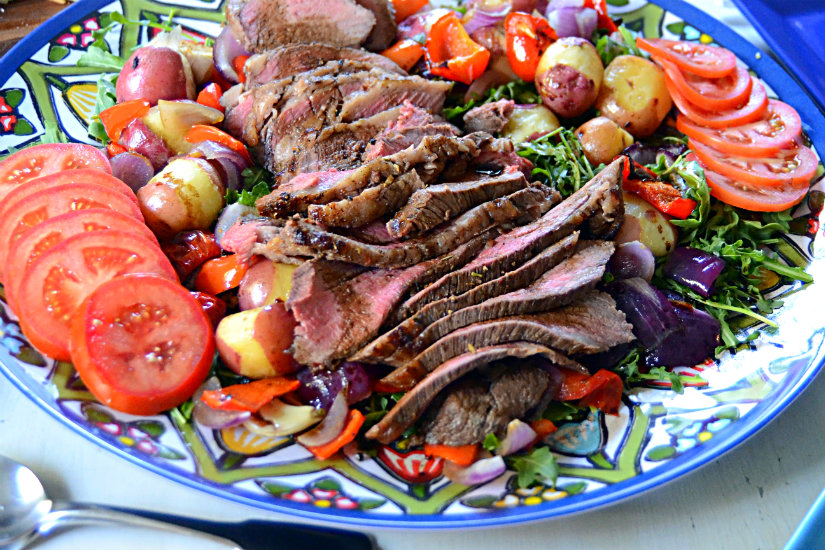 Not only is this a one dish meal, it's prepared together, roasted tritip and vegetables. My family … we love a vegetable. This delicious main dish meal is so easy and foolproof. It's perfect for family and guests. Pop this into the oven … it cooks quickly and is perfect for the summer days that are just too hot for outdoors. 108 degrees here today. Add some asparagus to the red potatoes, red onion and red bells to balance the color. Yes, I was advised this might have just a little too much red going on. You just can't see the arugula. Five of us had no difficulty eating all of this delicious meal. Give it a try!
Recipe
Preheat the oven to 450 degrees F about 15 minutes before use.
Serves 4-6 Adults
2 to 2 1/2 Pounds TriTip roast-marinate 8 hours, or overnight for best results
(Marinade ingredients the same as for London Broil-see here)
3-4 (very small) red potatoes per person-scrubbed and strip cut around the middle of each
2 Red bell pepper-chunked-nice bite size pieces
1 Large red onion-peeled & chunked-cut into 8th's
1/2 Cup olive oil
1 Teaspoon Italian spices
1 Head of garlic with the top tips sliced off and removed
Sea salt and freshly ground pepper to taste
8 Ounces of baby arugula-rinsed
1/4 Cup or more of your best balsamic vinegar
Use 1/4 cup of the marinade and drizzle over the bottom of a large shallow roasting pan with about a 2 1/2 inch lip.
Place the TriTip Roast fat side up in the middle of the roasting pan after draining off all the remaining marinade.
Place the olive oil and Italian spices into a large bowl and add the vegetables a little at a time to coat. Place vegetables around the roast in a single layer. Add the garlic head and drizzle with a little oil. Sprinkle vegetables with sea salt and freshly ground pepper.
Pop the roasting pan into the preheated oven and cook for 15 minutes at 450 degrees. Without opening oven door reduce heat to 350 degrees and continue cooking for about 25 to 30 minutes. Or until the meat reaches 130-135 degrees in the thickest part for medium rare. Remember, the meat will continue to cook after it is removed from the oven.
Remove the meat to a cutting board and let it rest for 10 minutes.
With the vegetables in the roasting pan turn the oven to hi broil and brown the vegetables just a bit. Careful not to burn.
Then remove the vegetables from the oven.
On a large platter sprinkle the arugula. Drizzle with half, or more, of the balsamic. Cut the meat very very thin across the grain and layer over the arugula. Place vegetables around the meat and drizzle all with the remainder of the balsamic.
That's it!