Tortilla Soup Up Next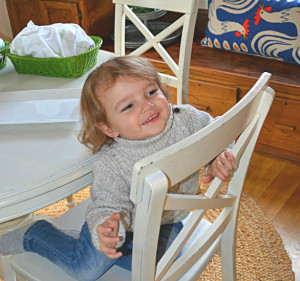 This little visitor has kept us busy over the last days. He loves all varieties of fruits, vegetables and meats & dairy. And he has been known to occasionally have a homemade cookie. But his very favorite treat is tortilla chips with from scratch medium heat salsa. Who knew! We give him his own little bowl of dip since he tends to double and triple dip. And after the dip he still has room for the entree. His healthy eating habits are every mother's dream. But then he picked this up from his mama. His visit wasn't long enough and I find myself  missing his sweet face … And his words, a ov oo.
The weather, rain is on its way, and this little guy have me thinking Tortilla Soup. But how can you improve on a great Chicken Tortilla Soup! Well, I suppose you can't. But if you grow tired of chicken like I do you might want to try my recipe. Up next!