Why a waffle panini?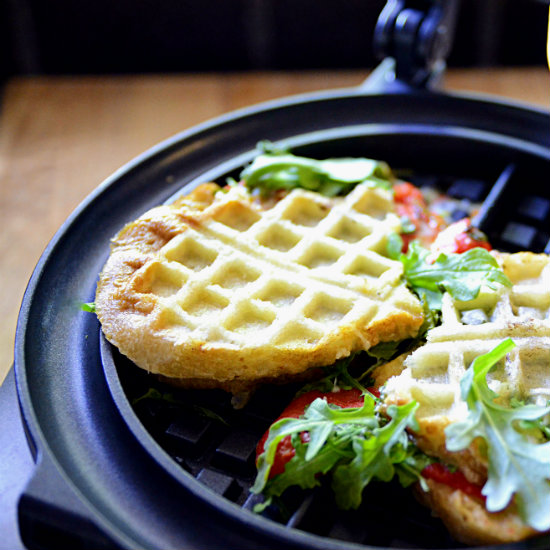 This panini is inspired by a friend who loves roasted red pepper sandwiches … that simple … that good. Not even a panini when he puts his together … yep, he's a pretty good cook and the whole thing works. I love the toasted sandwich, panini. And I've seen this in vogue use of a waffle iron … making a waffle meal of turkey, dressing and mashed potatoes to cakes and other desserts.
And since I have yet to invest in a panini press and I've lost, in my most organized kitchen, my Le Creuset grill I decided to use my waffle iron. Aside from the waffle look the results are the same as a panini press, delicious!
Recipe
Preheat your waffle iron. I like the idea of a waffle panini bar for family to make their own.
Italian meats & cheeses-thinly sliced
Italian and French breads-moderate slices
Fresh spinach
Fresh arugula
Fresh basil
Roasted red peppers-jarred is fine, drain
Mayonnaise or butter
Basil pesto or simply mix freshly blenderized basil with mayo
Heated marinara sauce for dipping-optional
Lightly coat the outside of the bread with mayonnaise or butter especially if your waffle iron is not a no stick. If your iron is well used, seasoned, and doesn't require this step, all the better.
Spread the inside of each slice of bread with mayonnaise, butter or pesto or a combination.
Layer the meats, cheese and other ingredients of your choice on one slice of bread and place an additional slice on the top.
When the waffle iron is heated place the prepared sandwich inside and close the iron with some pressure.
Leave to cook and toast.
When toasted to your liking and the cheeses have melted it's ready.