White Chili with Chicken & Hominy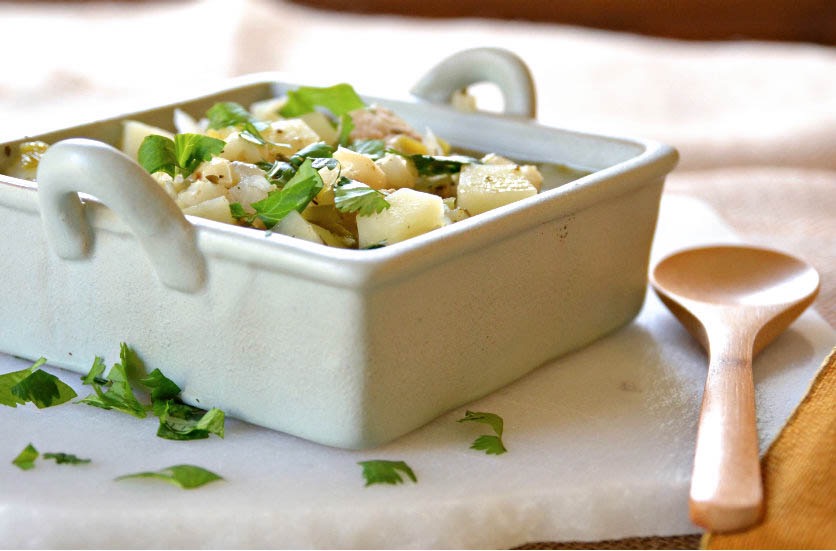 One chili that works as a comfort food. Yep, it's a bit hot with spices but the potatoes and hominy tame it into a comforting deliciously warming winter (really anytime) chili. A healthy abundance of spices take this off the chart! Give this a try. You'll love it!
Recipe
1 Tablespoon each of olive oil (& a bit more if needed) and butter
1 Pound chicken breast-boneless and skinless-thin slices across the grain
1 Yellow onion-finely diced
3 Large cloves of garlic-minced
2 Healthy teaspoons ground cumin
2 Healthy teaspoons dried oregano
1 Healthy teaspoon coriander
1 Teaspoon salt or salt to taste
1 Healthy teaspoon white pepper
1 Quart chicken broth
2 Russet potatoes-peeled & cubed
25 Ounce can Mexican Style hominy-rinsed and drained
7 Ounce can chopped Fire Roasted Green Chile Peppers
Cilantro and Sour Cream for topping
Heat the butter and oil over medium/high heat in a dutch oven or deep skillet.
Add chicken to the butter and oil and brown quickly. Remove to another dish.
Add onion to the same skillet used to brown the chicken. Turn the heat to medium and sauté the onion until limp and translucent.. Add a tiny bit more oil if necessary.
In the last minute of the onion sauté add the garlic.
Add the broth, spices, chicken and potatoes to the skillet. Simmer until the potatoes are slightly tender, about 5-7 minutes.
Add the hominy and green chiles and simmer an additional 5-10 minutes. The chicken will break up for bite size pieces. Keep at a low heat until ready to serve.
Serve piping hot with a sprinkle of chopped cilantro, a dollop of sour cream or a sprinkle of grated Mexican cheeses.