Wood Oven Pizza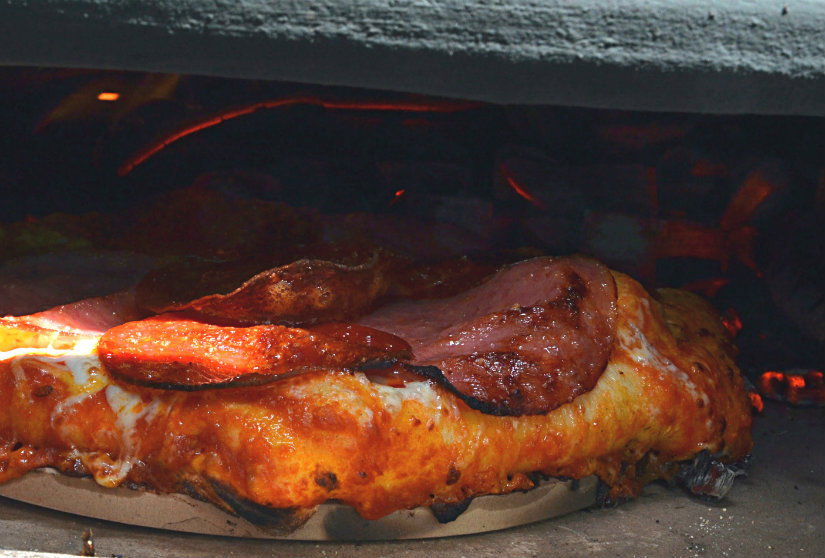 It absolutely works! The little terra-cotta pizza oven I bought at Cost Plus World Market is worth it. Now 40% off too. Start the fire, let it burn for 15 minutes to reach a peak temperature, bake pizza in two minutes. Amazing!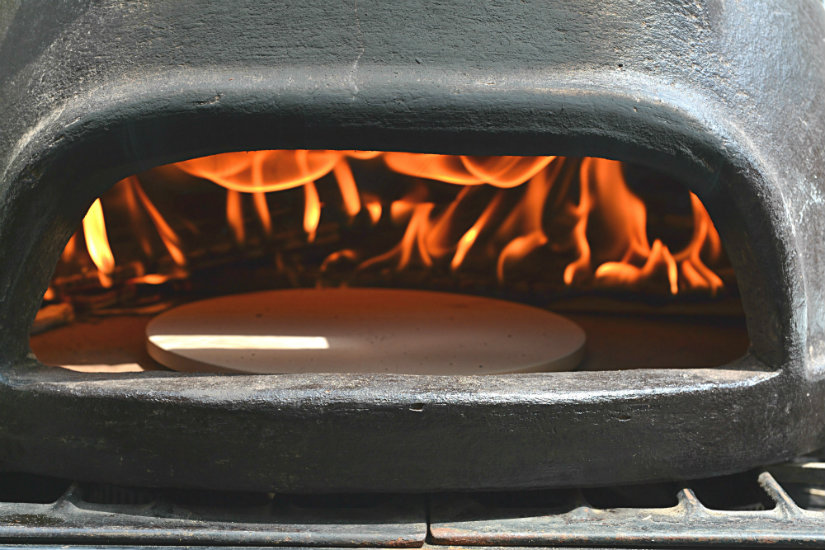 Choose your favorite pizza toppings and add them to this amazingly quick and easy pizza dough. In fact, I would say this is a no fail pizza dough recipe. Yep, while at World Market I picked up this great pizza recipe book, Patio Pizzeria by Karen Adler & Judith Fertig. Lots of good and delicious ideas. I decided to try their simple "Classic Pizza Dough" with slight variations. It was pretty near perfect. They did suggest '00' flour for wood burning ovens … providing a thinner crust. But I used bread flour as the original recipe suggested and it worked well. In fact, the recipe was to make four 6 inch size pizzas. I found it made four 8-9 inch pizzas instead … It was easy to stretch out with semolina flour dusted on the working surface.
It was fun using this method of cooking. Just have the right wood for your oven, small enough and safe to use with food. I like the idea of a pizza stone and I didn't have any trouble removing the pizza when done. When transferring onto the heated stone the pizza dough should be resting on a cornmeal covered surface. This helps tremendously. I had the pizza resting on a large wooden paddle covered with cornmeal and lifted/slid the pizza onto the heated stone with a 6 inch round spatula. Worked perfectly.
Recipe
Pizza Dough
2 1/2 Cups bread flour and more for kneading
1 1/4 Teaspoons salt
1/4 Ounce Instant yeast
1 Cup lukewarm water
1 Teaspoon sugar (honey recommended but was not used)
1 Tablespoon olive oil
Mix the dry ingredients in a large bowl.
Add the olive oil and sugar to the water and stir.
Add the water to the flour and mix with a hand held bread hook. (Also purchased at World Market)
All will mix up quickly. Oil hands with olive oil and provide flour generously to the working surface. The dough is a little sticky. Pour out onto the working surface. Add a little flour as needed while kneading to keep it from being very sticky. Knead for about 4-5 minutes. Form into a smooth ball.
Place dough into a lightly oiled bowl. Cover the bowl with plastic wrap. Then place about three kitchen towels over the top. Place in a draft free area. Let rise for about 1 hour or until double in size. The dough can be refrigerated up to 2 days at this point. Just place into a sealed container and use what you need.
Place dough onto a semolina floured surface. Cut into 4 equal pieces. Roll out one at a time to about 8 inches in diameter. Remove to a cornmeal sprinkled plank. Cover with your favorite toppings. Can be as simple as olive oil, sliced tomatoes, fresh mozzarella and basil leaves. Or the traditional with red pizza sauce, Italian cheeses and meats. Your choice!