Overnight Yeast Donuts
Great For The Holidays When Time Is Limited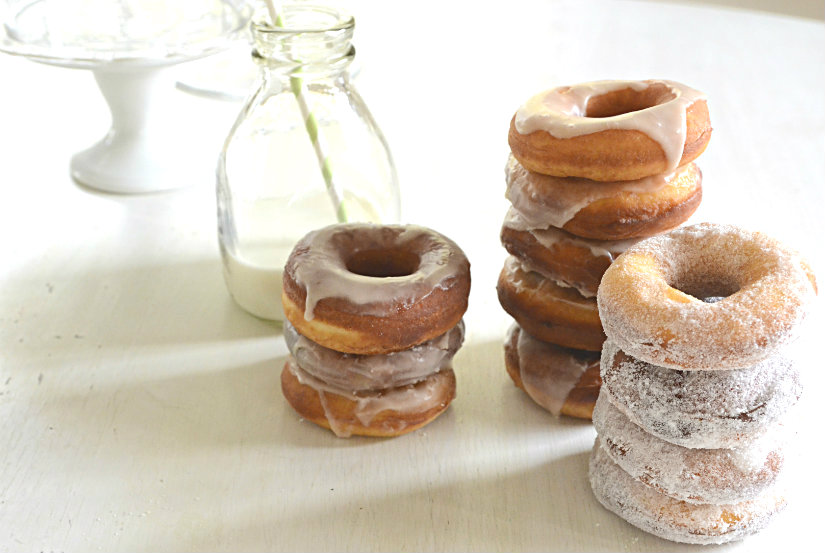 Partial to Yeast Donuts but don't have enough time during the holidays to make them? Mix these up in about 20 minutes and refrigerate overnight. Next morning roll out and let rise about 50 minutes. Cook up on your stovetop in minutes. And make a "Gingerbread Man" for the little one.
Recipe
Makes 1 and 1/2 dozen donuts
2 Packets of instant dry yeast-dissolved in 1/2 cup lukewarm water and set aside for 10 minutes, then fork whisked (instant doesn't require dissolving but force of habit)
1/3 Cup butter-melted and cooled to lukewarm (Who is Luke anyway … luke was a word used for warm/tepid then lukewarm.)
1/2 Cup milk-scalded and cooled to lukewarm
1/3 Cup sugar
2 Eggs-whisked
4 Cups all purpose flour
1 Teaspoon salt
Cooking oil-size of pan will determine need … 3-4 inches of oil
Whisk together the flour and salt.
In a large bowl add half the flour/salt mixture. Add the dissolved yeast and mix.
Next add the butter and mix.
Stir the sugar into the milk until dissolved.
Add the last half of the flour and gradually add the milk and eggs. Mix until smooth.
Place dough into a bowl that has been oiled or greased with shortening and roll the dough around until the outside of the dough is oiled too.
Cover the bowl and place into the refrigerator until morning.
If the dough has risen slightly overnight this is not unusual. Punch down.
Roll out dough on a slightly floured surface to about 1/3 inch. Cut with a floured donut cutter or a make shift one by using kitchen items. Careful if you choose glass.
Let rise after cutting for about 45-50 minutes.
I use a heavy small diameter sauce pan with deep sides for the cooking. Usually cooking two donuts at a time in about 3-4 inches of oil.
Heat cooking oil to 375 degrees F. Usually a medium heat on the stovetop will create this temperature after a few minutes. I do suggest a thermometer for safety.
Place no more than two donuts into the oil. They cook fast and too much browning is not suggested. Total time in the oil is 1-2 minutes. Drain on paper towels. Then top as you like.
Great toppings:
Powdered sugar-place the donut in a bag with the sugar and shake gently
Granulated sugar-place donut in a bag with the sugar and shake gently
Glaze-1 cup powdered sugar with 1 tablespoon warm water or milk, add your favorite extract for flavor-just a drop
Chocolate glaze-try the glaze used on my chocolate eclairs