Amazing 30 Minute Beef Stew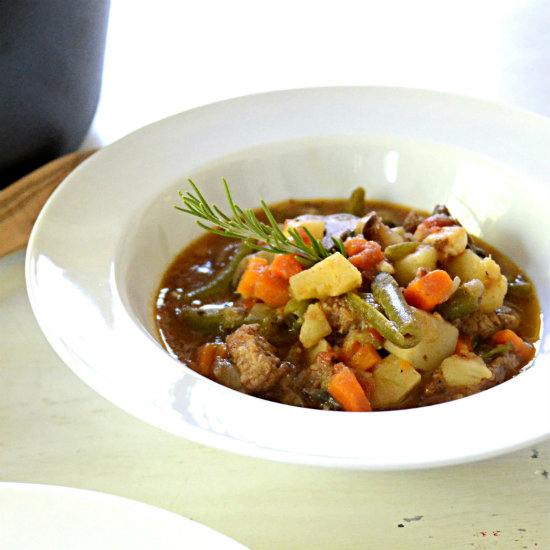 What is it that draws us to Beef Stew? For me it's the blending of flavors and tender meat brought forth by long cooking. You're going to be so pleasantly surprised at this recipe … Because after thirty minutes of cooking it tastes as if it has cooked all day.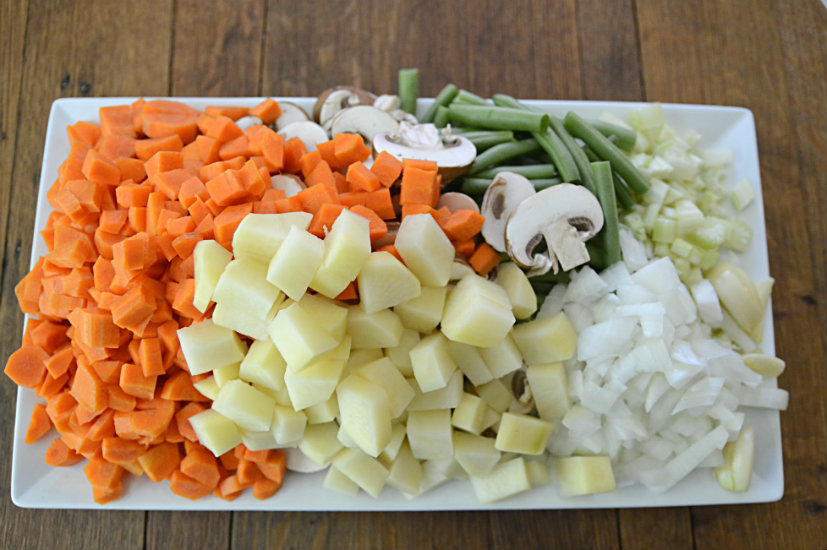 This is what takes the longest … slicing and dicing all the veggies. But I have a shortcut for this too.
Recipe
4-6 Servings
1-2 Tablespoons olive oil
1 Tablespoon butter
1 Yellow onion-diced
2 Cloves garlic-crushed
4 Ribs of celery-diced
8 Ounces of white or baby bella mushrooms-washed and sliced (in a pinch-jarred mushroom buttons, drained)
1/3 Cup all purpose flour
1 to 1 1/2 Pounds cube steak-cut into 1 to 1 1/2 inch squares
2-3 Large white potatoes-peeled and cubed
8 Carrots-peeled and diced at the large end and sliced thin at the small end (frozen peas and carrots can be used in a pinch, about 2 cups-add these toward the end of cooking, review package direction for cooking time)
Fresh green beans-washed, trimmed and cut into two inch pieces (or use frozen)
15 Ounce can petite cut tomatoes
2 Cups beef broth OR water can be used if all vegetables are sautéed in the same pot used for browning the beef and then this pot is used for the 30 minute cooking process. (Combination of water and broth can be used)
1 Cup water
1 Sprig rosemary or 1/2 tsp dried rosemary OR two bay leaves
Salt and Pepper to taste (a little garlic salt is ok)
In a large dutch oven, cast iron pot or very large skillet heat one tablespoon of oil over medium/low heat and sauté garlic. Remove garlic and set aside to add back.
Increase the heat to medium. Add flour to a paper or plastic bag with the meat and shake until meat is evenly floured. Place the meat into the skillet and brown quickly and evenly. Add the onion and celery after all the meat is added to the skillet. Cook the onion/celery with the meat until just tender. Remove all and set aside with the garlic.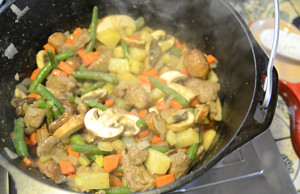 Add the butter and more olive oil if necessary. Now add the mushrooms and sauté until slightly brown. As this cooks add a few of the green beans, potatoes and carrots to brown as well. Add back the meat, onion, celery and garlic. Sprinkle all with salt (garlic salt is OK but lightly). Sprinkle with pepper heavily if you and your family enjoy pepper.
Add all other vegetables, the tomatoes, the broth, water (the one cup-or more if needed so the vegetables just peek through), rosemary or bay leaves. Cook about 30 minutes over low medium heat (you should see slight bubbling) without the lid for a thicker stew. Taste for additional salt and pepper. Remove rosemary sprig before serving.