Easy Apple Dessert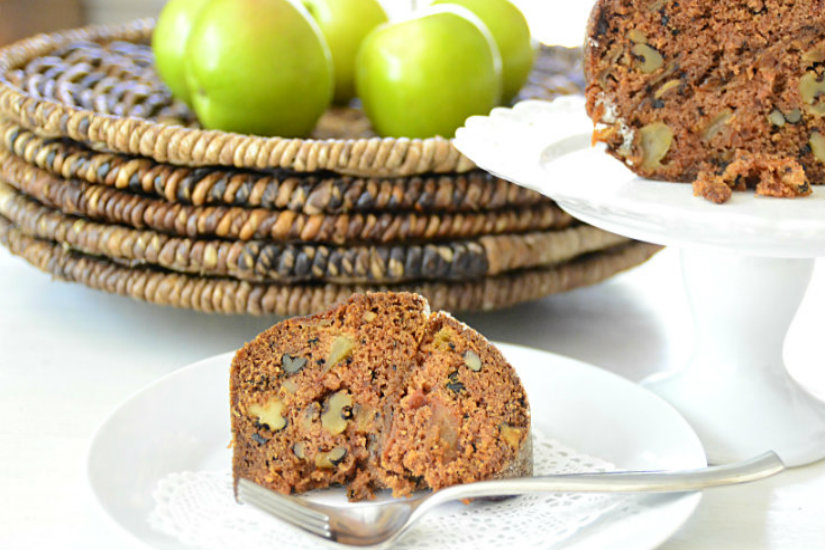 A thirty year old recipe that will convert pretty easily to Vegan if inclined. Tasty firm Granny Smith apples and walnuts create a lovely dessert for those surprise visitors, planned dinner guests or family of course. Make it fancy by adding a lemon curd drizzle, pumpkin butter, powdered sugar sprinkle, or whipped topping. Typically baked in an oblong baking dish or 9 inch square. Baking does take some time, about 45 minutes, and you will need a skewer or toothpick to check this one for doneness just to be sure. It's packed with goodness!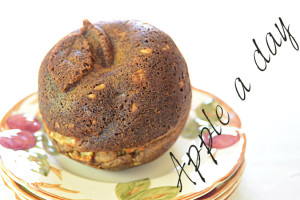 Here's the original recipe written for me on an office tablet. The person is unfortunately forgotten.
Recipe
Serves 6-8, recipe divides easily in half
Bake at 325 degrees for approximately 45 minutes, size of dish will determine. Use oblong baking dish (check after 30 minutes) or 9 inch square.
4 Cups of thinly sliced apples, Granny Smith or a combination of baking apples
2 Cups all purpose flour
2 Teaspoons vanilla
1 Cup walnuts
1/2 Cup butter
2 Eggs
1 1/2 Cup sugar
1 1/2 Teaspoon cinnamon
2 Teaspoons baking soda
1/2 Teaspoon salt
Cream together the butter, sugar and eggs. Add vanilla and mix thoroughly.
Whisk the cinnamon, baking soda and salt into the flour. Add to the creamed mixture and stir until mixed. It will be thick.
Fold nuts and apples into batter. Pour into greased and floured baking dish.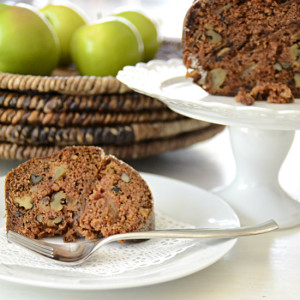 Bake and Eat!
Interested in the apple shaped baking pan?
William Sonoma Divide recipe in half for this baking pan.