Apple Pie for a Crowd
Easy Sheet Apple Pie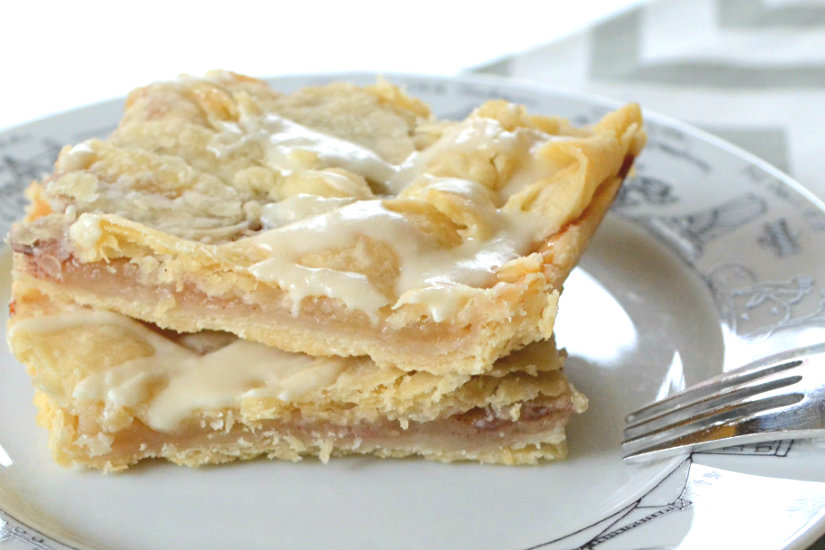 Two of my favorites, apples and my Carolina china. Can't go wrong with this for guests. Opportunities for cooking during my North Carolina days were slim to none … my road warrior days. I look back at it fondly now but haven't forgotten the long hours of commuting to the New England States, the Midwest, South, West Coast … well, everywhere in the US … except Hawaii which was given to those with more time at the company. 60 hour work weeks left little time to cook and I missed the cooking.
When I had some time I'd satisfy my gourmet needs by visiting Southern Season. Southern Season "has been known for the breadth and quality of its gourmet food, wine, houseware and cookware." I picked up my special china during one of my visits. I loved the place!
My life in Raleigh, North Carolina was enriching and I wouldn't change it. Okay, I agree it was a sacrifice for a friend to drive 1200 miles to visit. That was one way! Boy, were we young and crazy in those days!
Recipe
Preheat oven to 400 degrees F
Serves 15
2 Cups all purpose flour + 1 1/2 Tablespoons for filling
1/2 Teaspoon salt + additional pinch for filling and drizzle icing
2/3 Cup shortening
3 Tablespoons cold water
2 Tablespoons lemon juice-divided
5 Large Granny Smith apples-core, peel and cut into fourths and fourths again (about 5+ cups)
1/2-2/3 Cup sugar
1/2 Teaspoon cinnamon
Pinch nutmeg
1/2 cup powdered sugar
Prepare a 13 inch by 9 inch by 1-2 inch side depth pan. Grease and flour lightly bottom and sides.
Place 2 c flour into a large bowl and add 1/2 t salt and whisk. Cut in the shortening until forms crumbles. Add the water and 1 T lemon juice. Mix the dough and bring it together into a ball. Cut the ball into two pieces, one piece 2/3 of the total.
Roll the 2/3 piece on a lightly floured surface to fit the bottom of the oblong pan, going up the sides about 1 inch all the way around. Any extra trimmings add to the 1/3 dough left.
Layer the apple pieces evenly over the entire surface of the pastry covered pan. Sprinkle with the sugar evenly over the apples. Use more or less sugar depending on tartness desired. Sprinkle 1 1/2 T flour over the sugar evenly. Sprinkle the filling with a pinch of salt, cinnamon and nutmeg.
Roll out remainder of dough to layer over the apples. No need to pinch edges of dough. Just cover the apples edge to edge with the dough. Place two slits in the very center of the top dough.
Place into preheated oven and bake for 40 minutes or until slight bubbling of juices around the edge. Remove and cool.
Drizzle with icing is optional. Mix the powdered sugar and pinch of salt with the remaining T of lemon juice. Beat by hand until smooth. Drizzle lightly over the cooled pastry. When the icing sets a little cut pastry into 15 pieces.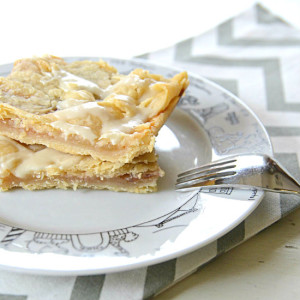 Apple Pie Pastry for a crowd. Enjoy!