A GREAT SUMMERTIME OR ANYTIME DESSERT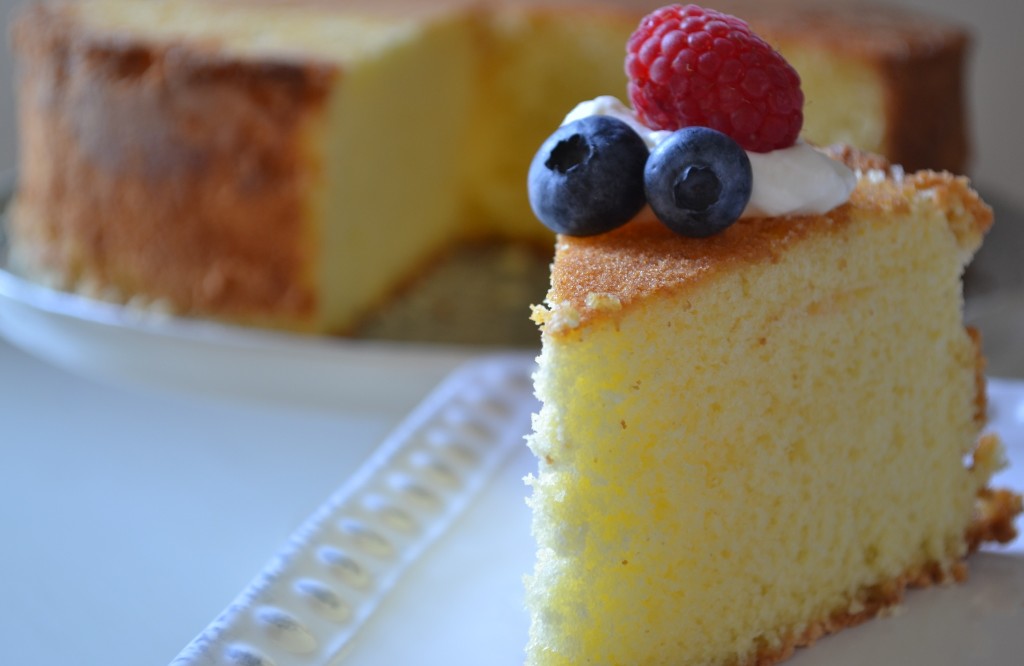 Five senses overload best described Aunt Alice's kitchen … Bleach cleaned and brightly lighted; smelling of smoked meats and sweet cakes; crowded with grown-ups who were loud with laughter, full of unfamiliar words, and giving toothy smiles and hugs as unconsciously as breathing. This was a pleasantly scary place to be for a three year old. I wish I could literally time travel to experience this again. And again.
As for this Portuguese Butter Sponge Cake … Having backyard chickens with extra eggs, and a memory boost from a friend, thank you Margaret, and thoughts of the grown-ups in my great aunt's kitchen revived this family favorite. This cake was eaten straight from the oven for the intensified buttery taste, more noticeable when warm.  Margaret had eaten it just this way at our house and remembered it after all these years as a favorite.
There's something about great food and memories. I have to laugh about our old family photos. It seems from these we did nothing else, but eat.
RECIPE
Serves 12-16
Use two 8 inch or two 9 inch round cake pans
Bake the cake in these pans 25-40 minutes. The 9 inch pan will require less time.
OR
Use a 10 inch springform pan
Bake the cake in this pan 50-60 minutes
Preheat oven to 350 degrees
Since ovens bake differently check the cake five minutes before the time indicated above. Touch center lightly to see if it springs back. If so, place toothpick or small wooden skewer into the center of the cake and remove. Look for a clean toothpick, no batter adhering. If batter is noticed on the toothpick the cake is not done. Return to the oven and check again in several minutes.
Before beginning the cake prepare your pan. Cut a piece of waxed paper to fit the bottom of the cake pan. Butter the top of this waxed paper as well as the sides of the pan. Dust sides and waxed paper with a small amount of cake flour. Shake out excess.
11 egg yolks (have at room temperature approximately 30 minutes)
2 cups sugar
1 cup scalded milk
1 teaspoon vanilla
2 ¼ cups sifted cake flour
2 teaspoons baking powder
¼ teaspoon salt
½ cup unsalted butter
Optional for topping:
Powdered sugar for dusting
Crème fraiche or sour cream (recipe to follow)
Step 1: Separate eggs and leave egg yolks at room temperature about 30 minutes. Yolks will beat better at room temperature, giving more height and lightness to the cake.
Step 2: Measure cake flour without sifting. Then sift and measure again. Sift 2 ¼ cups cake flour together with salt and baking powder. Have you ever noticed a clump of baking powder in your baked cake? I have in mine.
Set aside.
Step 3: Melt butter. (In a pinch you can use salted butter and eliminate the salt from the recipe. I hope the cooks in my family don't see this. Something I do frequently.)
Set aside.
Step 4: Scald milk. Place one cup of milk into a heavy bottomed pot and turn burner to medium heat. Stir to avoid scorching and to avoid a layer of skin from forming on the top. The layer can be removed with a small spoon if it does occur. The scorching might change the taste, however. As soon as the milk begins to bubble slightly remove from heat. This will be used in a warm state but not hot.
Set aside.
Step 5: Beat egg yolks with mixer on medium speed just for a few seconds. Now begin adding sugar ¼ cup at a time. Beating between each addition until sugar is well incorporated. This produces the air needed for the cake to gain height nicely.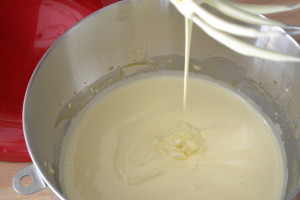 Batter will look stringy when falling from the beater. You are ready for the next step.
Step 6:  Add warm milk and vanilla to egg-sugar mixture from Step 5. Mix well on medium speed about 1 minute.
Step 7: On low speed mix in dry ingredients. Mix well but not over beaten. I fold by hand.
Step 8: Fold in melted butter one-half at a time. Drizzle over batter then fold in. Place in prepared pans and bake in preheated 350 degree oven the time indicated at the beginning of this recipe.  Make sure oven rack is in the middle of the oven with enough room for rising.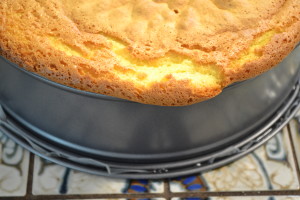 My oven is slightly uneven. If the cake forms over the side like this at the end of baking … cool for ten minutes … After this ten minutes remove this overlapping piece with a table knife. Whether this happens or not the cake needs to cool in the pan for approximately 10 minutes.
Now loosen the edge of the cake from the side of the pan with a thin rubber spatula. Place the cake on a wire rack and remove waxed paper. For the springeform, open the clamp, remove the cake to a wire rack. Remove the waxed paper.
Serve plain, dusted with powdered sugar, or with whipped cream and berries.
Comer Bem
For the left over egg whites that can be frozen up to months I found these great silicone containers. No need to freeze egg whites first in an ice tray and remove to what for freezing. Each of these holds two egg whites. They are freezer and dishwasher safe. And the material is also bacterial resistant. Additionally, egg whites do keep in the refrigerator well for a few days.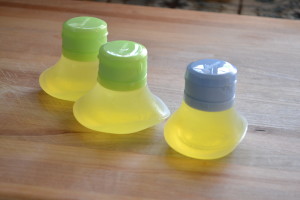 Whipped Crème Fraiche or Sour Cream:
I love freshly whipped heavy cream for desserts. But for this recipe it might be lost in the sweetness of the cake. I recommend these two tangy toppings. The sour cream is a bit sharper in taste and does not hold a peak well.
Sour cream topping:
1 cup sour cream
3 tablespoons powdered sugar
1 teaspoon vanilla
Beat until fluffy, almost immediately. Refrigerate. Put into freezer a few minutes before serving to improve hold.
Crème fraiche topping:
Beat until holds peak, similar to heavy whipping cream.
Add sugar, granulated or powdered, and flavoring as with sour cream.
If your grocer is out of crème fraiche you can easily make some.
1 cup heavy whipping cream
1 tablespoon buttermilk
Let set at room temperature for 8-12 hours, sometimes longer. Check for thickness. When of consistency remove to refrigerator to stop the process.
Enjoy!
For feedback or questions, please contact me!