Bacon Pecan Maple Buttermilk Waffles
(with Options)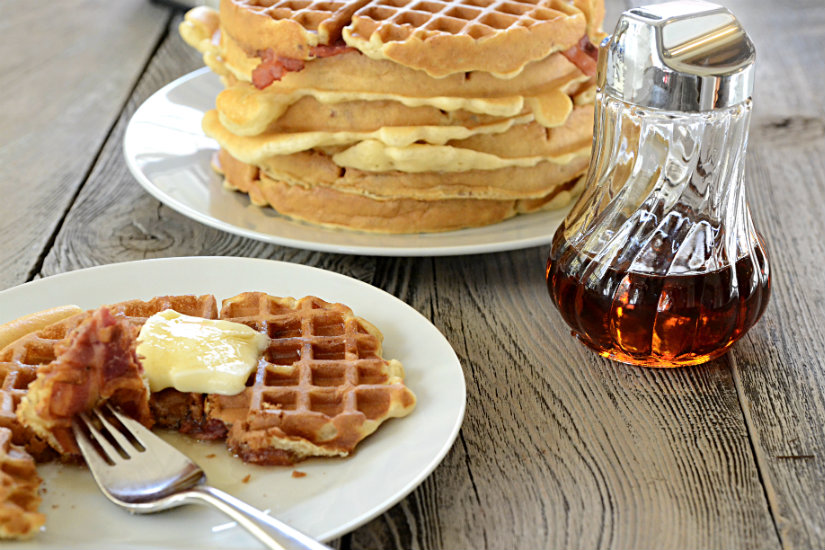 Breakfast is a favorite meal for my family. With four children and their spouses you might imagine food choices are many. We might agree on waffles … but what kind? This recipe can be changed up as you go. And with my new waffle iron that reminds me the waffles are done … and no more stuck on results it's become a cinch.
I've used shortcuts here and there. So, this can be done with the distraction of a crowd and still present with excellent results.
Give it try! You won't be disappointed.
Recipe
Makes 8 six inch waffles
3 Cups all purpose flour
3 Teaspoons baking powder
3/4 Teaspoon baking soda
3/4 Teaspoon salt
2 Eggs
3 Cups buttermilk
1/4 Cup pure maple syrup
1/4 Cup cooking oil
1/2 Cup chopped pecans (use candied pecans for a more noticed flavor)
16 Pieces precooked bacon, or cook 16 slices of thin bacon to a soft crisp stage and cool
Add first four ingredients in a large bowl and whisk.
Add next four ingredients and whisk until almost smooth. Fold in nuts.
Set aside for a few minutes.
Cut bacon pieces in half if using a six inch waffle iron.
Pour a thin layer of batter into heated waffle iron. Place pieces of bacon over the top of the batter.
Close the waffle iron and let it do its thing. The batter will envelope the bacon as it rises.
Other Options
Substitue a sprinkle of blueberries or banana slices for the bacon.
Add cinnamon and nutmeg to batter.
Substitute pieces of cooked Italian sausage for the bacon.
Sprinkle pecans over waffles before you bake instead of adding to batter.
Sprinkle shredded cheddar cheese and pieces of cooked ham over waffle before baking.
For a waffle bar:
Mix up the basic batter above (hold the pecans and bacon). Provide the toppings to be layered. Have a measuring cup with the amount needed for each waffle marked on the cup … to avoid those spill over messes.
And voi la!