How To Dress Up Basic Potato Soup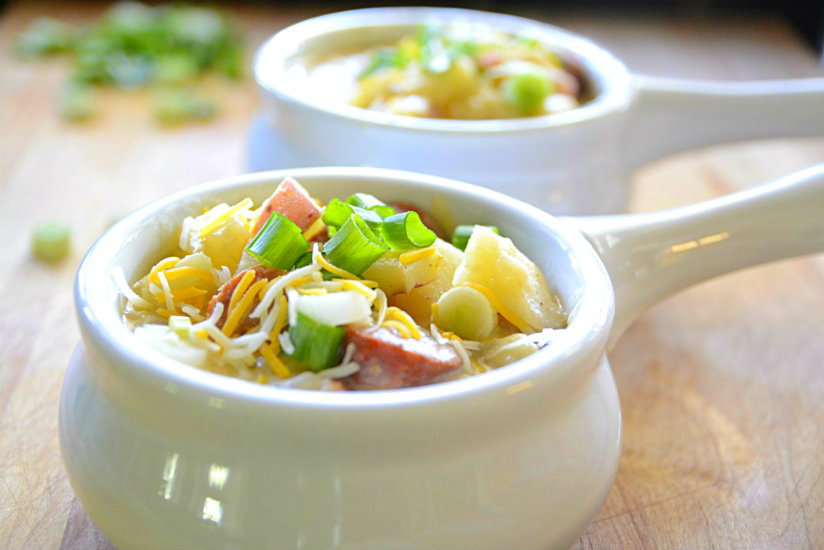 If you know the how to of a basic Potato Soup you have multiplied your soup recipes, well, not infinitely exactly but too numerous to count. So many options … make it creamy and rich or spicy and meaty … mash the potatoes or leave chunks for more texture … add greens and leave off cream … add milk and not cream … add clams or sausage or just go it plain. An economical soup with so much potential.
My brother is here to visit and today is going to be our first day of real rain in months. Yes I'm in the California drought area. To celebrate I'm making soup. I know Dan likes Portuguese Soups but he has plans to help his daughter with Sopas tomorrow. Not sure he would appreciate chicken soup. How about a rich Potato Soup! It's not unlike the base for Boston Clam Chowder and this too is his favorite.
Recipe
6-8 Servings
2-3 thin slices of bacon
1/2 yellow onion-diced, no big pieces please
2 Jalapeños-diced (optional)
1/4 Cup butter
3 Tablespoons all purpose flour
2 1/2 cups of chicken broth (low sodium, low fat or not)
2 Russet Potatoes-peeled and cubed (thickens the soup)
4 Red potatoes-scrubbed and cubed (maintains texture even after cooking for long periods)
2 Tablespoons red wine vinegar
1 1/2 Cup Half and Half (or 4% or 2% milk)
3/4 Cup Shredded cheddar cheese and a little for sprinkling
Green onions-sliced for garnish
Salt and Pepper to taste
Cook bacon to a crispy texture in a skillet deep enough to hold the chicken broth (or a Dutch oven if you are cooking the soup on the stovetop. This can be a slow cooker recipe too.)
Set aside the bacon and drain off the fat except for about one scant tablespoon. Crumble the bacon when cool and set aside.
Sauté the onion and jalapeños in the bacon drippings over medium/low heat until tender. Place in slow cooker or remove from skillet (or Dutch oven) and set aside.
Melt the butter in the skillet (or dutch oven) over medium/low heat. Add the flour and stir until bubbling. Add the chicken broth and increase to medium heat, stirring pretty consistently until slightly thickened. Remove from heat.
If using a slow cooker layer the potatoes over the onions and peppers and crumbled bacon, and pour the thickened chicken broth over all. Add the vinegar. Turn the covered slow cooker to high for the first 15-20 minutes. Then turn to low. For Dutch oven add the onion, peppers, potatoes, crumbled bacon and vinegar to the thickened chicken broth. Simmer until the potatoes are tender.
When the potatoes are tender use a masher to break up the potatoes. Make the potatoes as small or as large as you wish. The russets tend to cook up … the reason for their use … making the soup much thicker. The red potatoes hold their shape and stay pretty firm. Depending how small you cut up the potatoes the soup could be ready after simmering the potatoes for 20 minutes. Slow cooking process on low takes a few hours. If you need to maintain on low all day in your slow cooker this recipe works well.
Add the half and half or milk and bring the temperature of the soup back to a low simmer. Add the cheese to melt.
I added 1/2 pound of cooked linguica. Yikes! We love our linguica. You can add ham, or clams, or drained whole corn or any combination of your soup favorites.
What other changes can you make to this recipe?
-You can omit the cream and cheese and add cooked chicken. Or just add cooked chicken!
-You can omit the peppers and add two diced up carrots instead plus diced celery, sauté with the onions.
-Make it a Portuguese Green Soup by eliminating the half and half and cheese and adding kale or turnip greens. And of course add the linguica. Leave the potatoes in pieces.
You can see where this is going! A Basic Potato Soup Recipe with multiple options.
Mine was creamy and rich, and well, perfect for us. You've the Basic. Now make it perfect for you.