Beef Carbonnade
Sweet and Sour Red Cabbage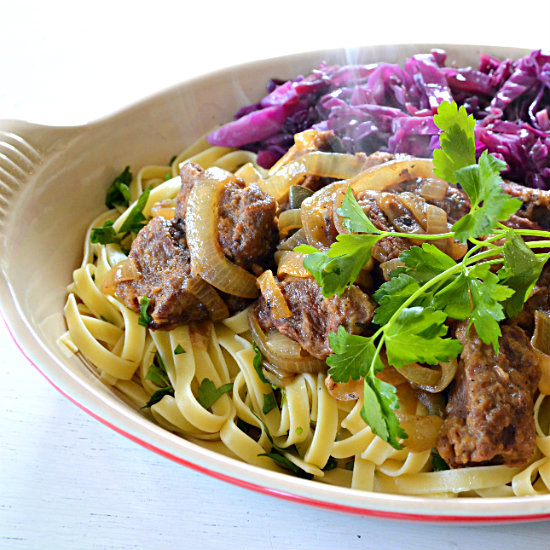 Better than a scented candle on a foggy day. The smell of Beef Carbonnade wafting through your house will certainly bring you out of the doldrums on yet another foggy or bad weather day. Trust me! We've experienced almost an entire week of sunless days and with this cooking I'm already feeling much lighter. Well, that's until I eat too much Beef Carbonnade.
I've layered the beef over fettuccine just because that's what I had on hand. Break up the fettuccine before cooking to give other than a pasta dish presentation to this beefy recipe. Or do the traditional and use medium width egg noodles. Either way, Mmm!
Serve with a side of spicy Sweet and Sour Red Cabbage. Easy Easy! I've only used half the red cabbage. So tomorrow I'm making a salad with red cabbage, cauliflower and romaine and a sour cream dill dressing … If you're not into braised cabbage.
Hope you enjoy!
Recipe
Preheat oven to 325 degrees F
Serves 4 adults
3 Pounds boneless chuck roast-cut into approximately 3 inch pieces, cut off fat
1/3 Cup all purpose flour
2 Teaspoons salt
1/2 Teaspoon pepper
2 Tablespoons cooking oil
1 Tablespoon olive oil
1 Tablespoon butter
2 Large yellow onions-sliced
2 Cloves garlic-minced
1 1/2 Cups beef broth
1 1/2 Cups beer or ale
2 Tablespoons brown sugar
1/2 Teaspoon thyme
1 Tablespoon vinegar
3 Springs parsley
1 Large bay leaf
In a large skillet over medium heat add olive oil and butter. Sauté the onion until tender and add the garlic in the last minute or so. Remove and set aside.
Add the cooking oil to the skillet and bring to high heat but not a red burner. Whisk the flour with the salt and pepper in a dish large enough to dip meat. Dip each piece of meat, all sides, into the flour mixture, shake off excess and brown in the hot oil. Add only a few pieces at a time to the skillet to avoid lowering the heat in the skillet. Remove the meat as you brown and set aside.
In a baking dish (with lid) layer the sautéed onion, garlic and browned meat. Set aside.
In the same skillet drain any fat, unlikely if there is any, add the broth and beer and deglaze the skillet. Add all but the parsley and bring the ingredients to a simmer. Remove from heat.
Add the broth mixture over the meat and onions. Place the sprigs of parsley over the top. Cover and place into the oven. Bake for 2 1/2 hours or until tender.
Serve over egg noodles, cooked per package directions, dotted with butter and fresh parsley.
Sweet and Sour Braised Red Cabbage
1/2 Head medium red cabbage-sliced very thin and core removed
1/2 Large yellow onion-cut in half from top to bottom to avoid rings-slice thin top to bottom to achieve long pieces of thinly sliced onion
2 Tablespoons olive oil
1 1/2 Tablespoons brown sugar
1/4 Cup red wine vinegar
1/4 Teaspoon of coriander, all spice and cloves
1/4-1/2 Teaspoon salt
In a skillet over medium temperature add the oil and sauté the onion and cabbage until lightly browned.
Mix together the sugar, vinegar, spices and salt. Pour over the sautéed cabbage and onion.
Simmer until the cabbage wilts and the other ingredients are well incorporated.
Cover and place into the oven for 40 minutes.
Serve with your meat dish.