The Best Boston Clam Chowder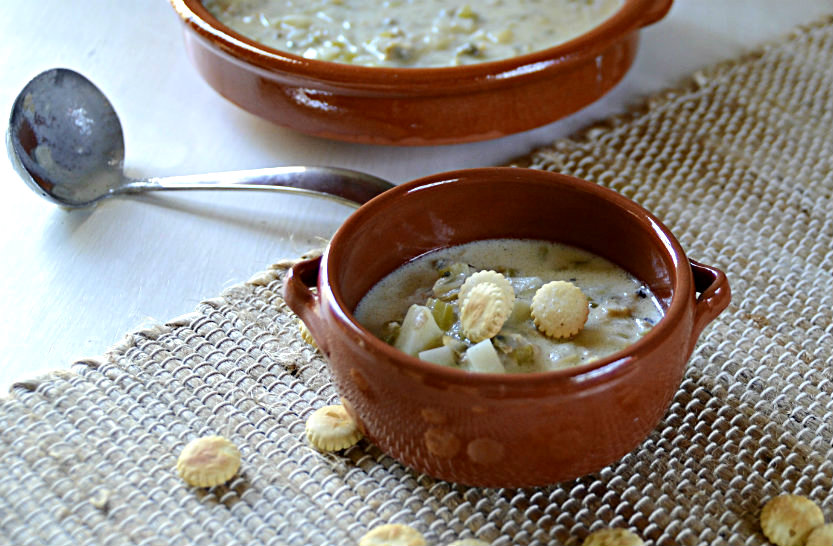 This Boston Clam Chowder is definitely best on cold gray days. It might even be better while appreciating ocean breezes. But since I live inland I'm enjoying this rich and filling chowder during our rainy weather.
Rich is understating. This is butter, cream and bacon rich.
You'll love it!
Recipe
8 Adult servings
3 Pieces of bacon, 2 if thick sliced
1 Cup diced onion
1 Cup diced celery
2 Cups diced potatoes
1/2 Cup diced carrots-optional
2 Cans (6 ounce each) minced clams
3/4 Cup butter, all butters are not created equal-try European
3/4 Cup all purpose flour
1 Quart half and half
1-2 Teaspoons salt or salt to taste
1/4 Teaspoon freshly ground pepper or pepper to taste
2 Tablespoons red wine vinegar
In a skillet fry the bacon over medium heat until crisp. Remove the bacon and drain all but one tablespoon of fat from the skillet.
Add the onion to the bacon drippings and tablespoon of fat and sauté until almost tender.
Add celery to onion and continue cooking without browning.
Add potatoes and carrots (if using) to the onion and celery.
Drain the clams and pour the clam juice into the skillet over the vegetables. Set aside the calms.
Cook the vegetables in the clam juice until tender. This could take 30 minutes or more. Add a little water if needed.
In the meantime;
In a dutch oven large enough to hold all ingredients melt the butter over medium low heat.
Add the flour stirring constantly until the butter and flour are well mixed and smooth.
Slowly add the half and half, stirring constantly. Cook slowly, stirring to avoid scorching.
As it thickens add the vegetable mixture and salt and pepper (if using). Continue cooking.
Taste for salt and pepper need. Add as needed.
Lastly add the clams and vinegar and heat through.
Garnish with bacon crumbles.
Enjoy!