A Winning Family Dinner – Braciole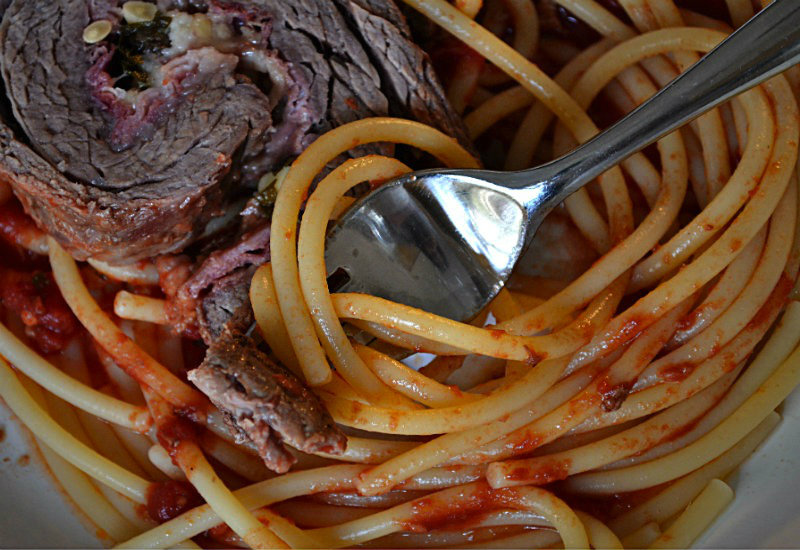 The Mystery Man in Black introduced me to this dish, Braciole. Marc or Ed has been my Italian Food Critic for over 15 years. I knew when I heard, this tastes as good as my mom's … It was just right! This is my reinvented recipe.
I hope you will enjoy this perfect family meal. Too … great to share by candle light and Jerry Vale's Mama.
Mangia!
Recipe
This recipe will serve 6 to 8.
Braciole in this recipe is a flank steak or skirt steak, stuffed, and simmered in a simple marinara sauce. The marinara becomes a bolognese sauce that can be served over your choice of pasta. I used bucatini in this recipe but you just can't beat linguini with this particular recipe.
Simple Marinara
2 Tablespoons olive oil
2 Cloves garlic-minced
1 Medium onion-chopped (optional)
Italian Seasonings to taste
Salt and Pepper to taste
28 Ounces tomato puree
15 Ounces crushed or petit cut tomatoes
1/3 Cup red wine (optional)
Braciole
2 Pounds (approximate) skirt steak or flank steak
3 Ounces prosciutto
3 Ounces fresh mozzarella cheese-sliced and torn
3 Ounces Romano cheese or Romano and Parmesan combination-shaved or grated
1 to 2 Tablespoons pine nuts
1 to 2 Tablespoons raisins
1/4 Cup parley-chopped
1 to 2 Cloves garlic-minced
Salt and pepper to taste
Tooth picks, wooden screwers or twine to secure meat
Begin with the marinara. You can use a quality jarred sauce if you like but this marinara is simple, quick and inexpensive. Sauté onion if used and add garlic in the last minute. Add puree, tomatoes, red wine and spices and simmer until it is time to pour over the stuffed meat.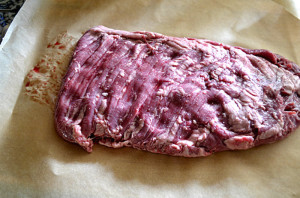 Meat placed on parchment paper ready to be flattened.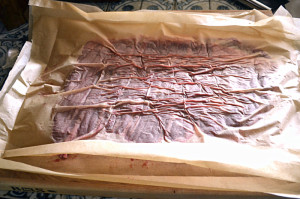 Place parchment on top the meat as well … folding edges to help avoid spilling juices onto counter top. roll over top paper with a rolling pin. Can be pounded with a meat mallet.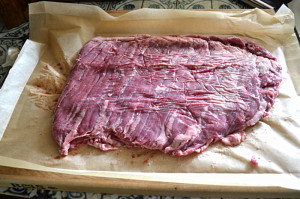 Size and thinness of meat after the pounding process. Ready for filling.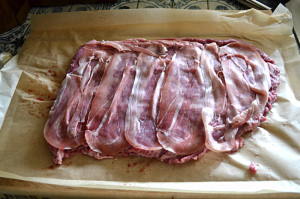 Prosciutto added in layer form. Can be chopped and added.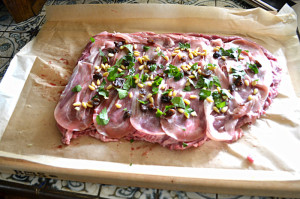 Minced garlic, chopped Italian parsley, pine nuts and raisins added.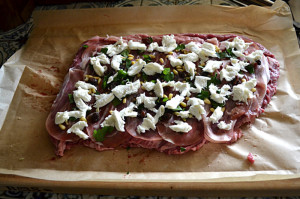 Mozzarella cheese added.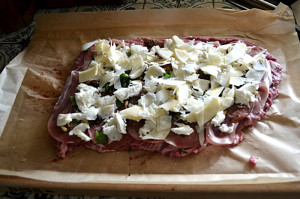 Remainder of cheeses added.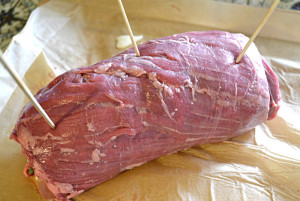 This cut of meat must be cut across the grain to maintain tenderness. Roll the meat so the grain will be cut across when sliced to serve. Secure with temporary screwers to aid in the tying. Or secure with skewers or toothpicks. I find the latter method inadequate.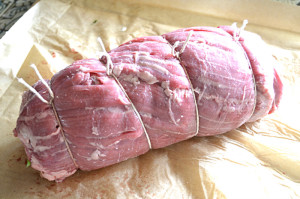 I have tied this as if a lassoed steer. This example is a little too tight.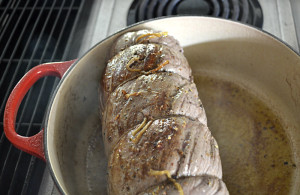 Brown the meat in olive oil to instill a good flavor. Add fresh ground pepper and salt during this process.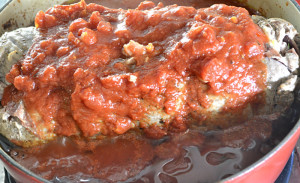 Add sauce and simmer for 1 to 2 hours or until meat is tender. Simmering rather than boiling is important to avoid toughening meat. Also, choose a pot with even heating potential and a tight lid. The pot should be 2/3 to 3/4 full for proper cooking. Keep pot covered during this process. Check periodically to avoid burning where meat rests on the bottom of the pot.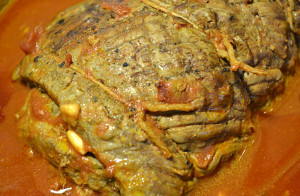 After an hour this is the sauce. Notice the fat on the top. This must be removed before serving.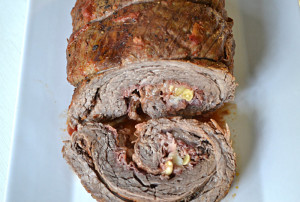 The Braciole has been removed from sauce, string removed, and thinly sliced. Skim sauce of fat. Dish up cooked pasta into your favorite pasta bowl, add a slice of the Braciole and cover all with sauce and additional parmesan.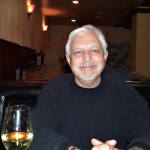 Mystery Man in Black