Not just for Breakfast-Breakfast Burrito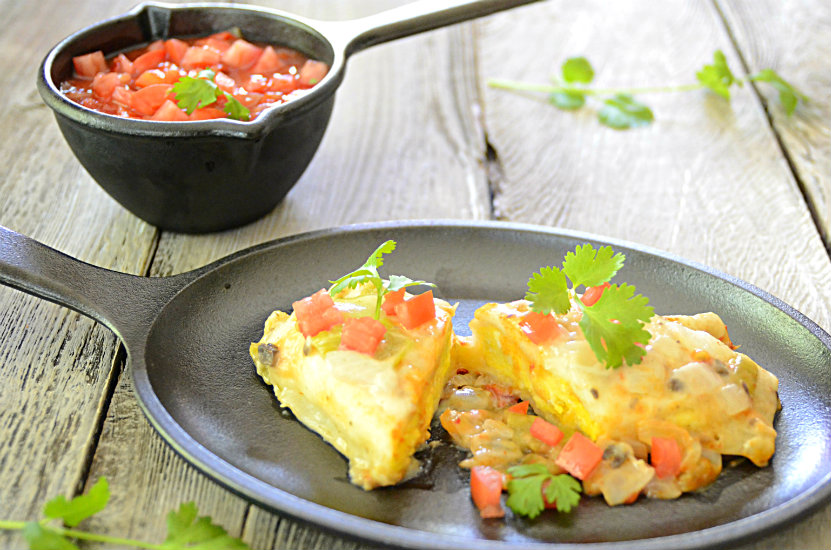 Serve it as a brunch on the patio or dinner in a pinch. Do it the simple way with mushroom soup and your favorite store bought salsa … Or for the purest make a béchamel and if you don't make salsa try fresh chopped tomatoes and cilantro as the garnish.
Recipe
Preheat oven to 350 degrees F
Serves 6
Sauce
1 3/4 Cups béchamel (click here, double this recipe) OR 1 1/4 cup condensed cream of mushroom soup + 1/2 cup milk
1/2-1 Tablespoon butter
1/2 Onion-chopped fine
1 Large clove garlic-minced
7 Ounce can whole green chiles-chopped OR add part chopped jalapeños for a bit of fire
Salt and Pepper may be needed for the sauce – there are heart healthy mushroom soups with low salt
In the skillet you are going to use for the eggs sauté the onion, medium heat, until turning slightly golden then add the garlic and sauté one minute. You may need to turn heat down a bit. Add this to your already prepared béchamel, or your heated mushroom soup and milk along with chopped chiles. Stir and set aside.
8 eggs-hand beaten
2 1/2 Cups shredded Mexican cheeses or Monterey Jack and Cheddar
6 flour tortillas
In the skillet used for the onion and garlic (removed) add the eggs and scramble. You may need to add a little butter to the pan to avoid sticking. Remove from heat after done.
Spray an oblong baking dish with non-stick or butter lightly.
Divide the eggs equally between 6 tortillas and add cheese over the eggs. Save some cheese for sprinkling top. Spoon a generous tablespoon of sauce over eggs and cheese. Wrap like a burrito or leave ends open and seam down. Place in baking dish.
Pour the remainder of the sauce over the burritos. Bake about 20 minutes or until hot.
Garnish with avocado, salsa, fresh tomatoes, cilantro, sour cream … your favorite choices.