Broccoli Chicken Salad
or
Broccoli Side Salad without Chicken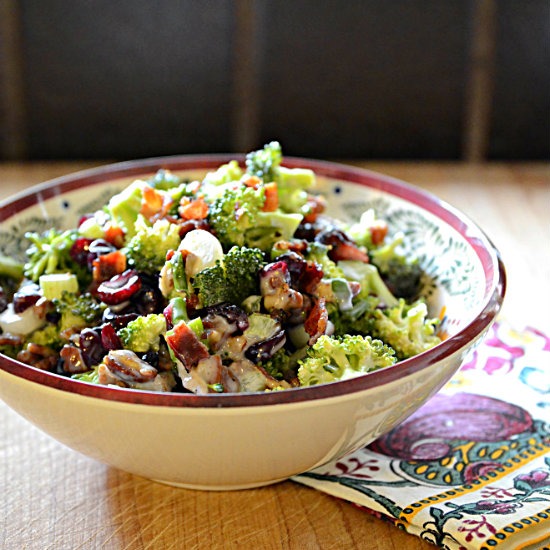 This salad is as beautiful as it's nutritious and delicious! Revised from the good old days of raisins and sunflower seeds to a main dish with chicken. But works as a side dish without the chicken if you prefer. Crunchy multi-flavor with a sweet-n-sour dressing. Perfect for the barbecue season ahead!
Enjoy!
Recipe
4-8 Slices of bacon-cooked crispy, cooled and broken into small pieces or bits
4 Cups of broccoli-very small flowerets, or chopped to include some stems
1 Bunch green onions-sliced-about one cup
1/2 Cup toasted pecan pieces
1 Cup dried cranberries
1 Cup cooked chicken breast-chopped into bite size pieces
Dressing:
3/4 Cup mayonnaise-a less sweet brand
2 Tablespoons cider vinegar
2 Tablespoons sugar
1/2 Teaspoon of salt
1/4-1/2 Teaspoon pepper
Toast pecans in a small skillet over low heat until slightly browned and you can smell the toasting nuts. Cool and set aside.
In a large bowl add all six ingredients.
Mix the dressing ingredients in a separate small bowl until creamy and sugar is dissolved.
Pour dressing over the six ingredients and mix thoroughly.