Old Fashion Butterscotch Meringue Pie
Updated With A Peanut Butter Cookie Crust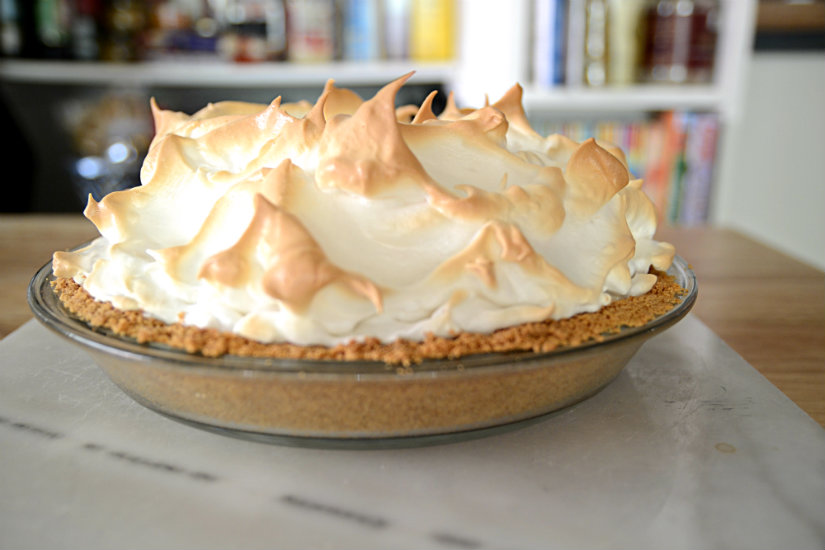 Butterscotch Meringue Pie is the longtime family favorite cream pie. I've noticed cream pies are not in vogue as they once were in the 40's and 50's. We've developed such complex desserts these days the simple old fashion ones, it seems, no longer tease our sophisticated palates. For this recipe bringing together butterscotch with peanut butter just seemed a perfect combination to satisfy our tastebuds.
Pies with meringue were passed over by me as a child with the exception of this one. It just seemed to be the only way to top off this pie. If you aren't into meringue a dollop of whipped cream will do. Or creme fraiche. And frankly, with this crust a topper isn't even necessary.
If butterscotch pie isn't your fav but peanut butter is … try this crust with chocolate cream, cheesecake, or ice cream. Beware it is rich and addictive … And vegan!
Recipe
Makes one nine inch pie
Preheat oven to 350 degrees F
Crust
16 Peanut butter cookies (I used Nutter Butter)
2 Tablespoons peanut butter-melted and then combined with 1 teaspoon cooking oil (butter can be substituted for the peanut butter)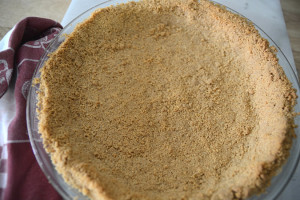 Melt the peanut butter or butter in microwave. The butter will melt much faster than peanut butter. For the peanut butter microwave at 30 second intervals until melted. For the butter microwave 15 seconds and then 5 second intervals until melted.
Whirl cookies in a blender until a fine crumb. Pour into a medium size bowl.
Add the melted peanut butter or butter and blend.
Press into a 9 inch pie plate. The crumbs will have a tendency to stick to your hand as you press. Go slowly around the dish pressing firmly. It works.
Bake for 20 minutes or until golden brown. Remove and let cool completely.
Fill with this rich butterscotch recipe below or your fav filling. Cold fillings will keep your crust firm while cooked in the crust fillings will produce a softer crust.
Butterscotch Filling
2 Cups milk
6-8 Tablespoons all purpose flour-more flour gives firmer results-Not sure? Go with 8 T
2/3 Cup packed dark brown sugar
3 Slightly beaten egg yolks-save whites for meringue-room temperature egg whites are best for meringue
1/4 Cup butter
Sprinkle of salt
1 Teaspoon your best vanilla
Place the milk in a medium sauce pan, stir sugar and flour into cold milk.
Place egg yolks in a small bowl and beat with a fork. Set aside.
Heat milk mixture over medium heat stirring constantly to avoid scorch. As it begins to thicken turn heat lower and continue cooking for several minutes.
Add a small amount of the heated mixture to the bowl with the egg yolks and immediately mix thoroughly. Pour the egg mixture into the cooking milk mixture and continue cooking an additional 2 minutes. The cooked filling should be thick.
Cool or not to cool. If not using meringue cool the filling completely before pouring into the pie shell. This keeps the pie shell firmer. If placing meringue as a topper it is recommended to top when the filling is still warm. This supposedly keeps the meringue from sliding around the top of the filling.
If no meringue, it is ready to eat but cool to room temperature to assure the filling has completely firmed. This pie is to be refrigerated after it reaches room temperature if not eaten immediately.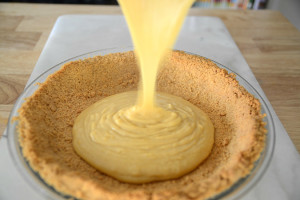 Meringue
5 egg whites at room temperature-use those frozen some months back but bring to room temperature
1 and 1/2 Generous tablespoons sugar per egg white (I use powdered sugar because it, in my opinion, keeps the meringue from shrinking … especially if you are going to refrigerate the pie following baking. Note: Granulated sugar takes longer to dissolve and the sugar whatever type you use needs to be well dissolved.
1/4 Teaspoon cream of tartar-helps hold the fluff
1/2 Teaspoon vanilla
Beat the whites with the vanilla and cream of tartar until soft peaks.
Add the sugar in 3 divided amounts and continue beating after each addition until the sugar is well dissolved and the egg whites are stiff peaks.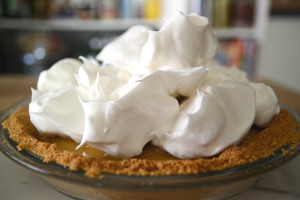 My secret for a fluffy meringue. Well, first and foremost dissolve all sugar in the beating. Then while placing onto the warm pie filling just spoon big glops around the top of the filling, sorta lightly flinging as you go. This provides nice peaks. Next take a table knife and make sure the meringue is touching the edges of the pie crust and the glops are touching each other.
Bake in the preheated to 350 degrees F oven for 15-20 minutes. Placing the pie too high in the oven may produce overly browned peaks. Check while baking.
To cut this luscious meringue spray your knife with cooking spray, remove the excess.
Hope you enjoy this Butterscotch Meringue Pie & Peanut Butter Crust!