Candy Bar Cookies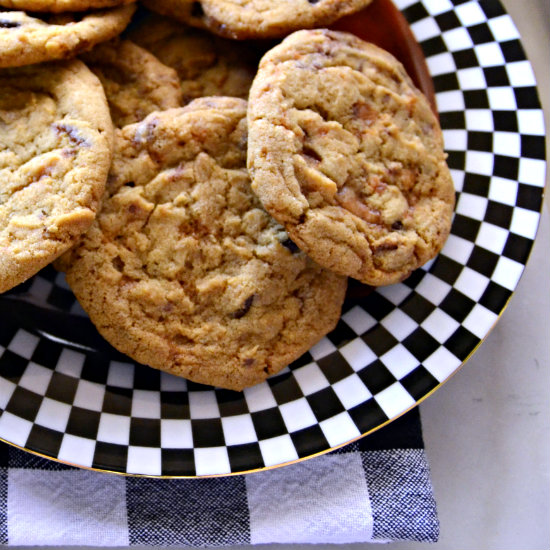 It's a mystery! Hmmm I don't recognize the handwriting and the address on the back of the recipe card doesn't ring a bell. From the city address this looks to be at least 20 years old. If mom had lived there I'd say this was a friend of hers recipe … Mom loves Butterfingers. The mystery probably will go unsolved but thank you whoever you are.
Yep, I did a search for candy bar cookies and while similar recipes … that's about it. An interesting tidbit … other candy bar cookie recipes give a variety of candy bars to use … even combinations of candy bars. This recipe will accommodate other candy bar choices, too. If you need a change up I'd stay with caramel and nougat candy or chocolate covered peanuts … Baby Ruth for example. I'll leave these choices to your imagination. No George, maybe not Skittles. But who knows! Not my choice for a cookie though.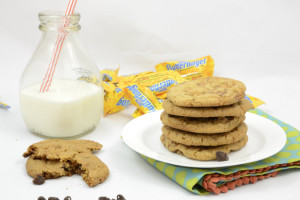 Recipe
Makes 2 dozen 3 inch cookies
Bake at 350 degrees F in a preheated oven for 10-12 minutes
Use a non stick cookie sheet or parchment paper covered cookie sheet
Do no remove cookies from sheet after baking for at about 5 minutes
3/4 Cup butter at room temperature
3/4 Cup brown sugar-packed
1/2 Cup granulated sugar
1 Egg-room temperature
2 Teaspoons vanilla
2 Cups all purpose flour
3/4 Teaspoon Baking soda
1/4 Teaspoon salt (1/2 teaspoon if using unsalted butter)
10 Ounces chopped candy bars (I used Butterfingers)
1/2 Cup chocolate chips (I used semi-sweet, your choice)
Cream butter and sugars. Add egg and vanilla and mix thoroughly.
Measure flour, soda and salt into a medium mixing bowl and whisk to mix.
Add flour mixture to butter mixture and mix.
Chop candy bars. This may be easier if the candy bars are cold and your knife has been sprayed with a little cooking spray.
Stir in candy and chips.
Bake and Eat!