Low Calorie Carrot Cake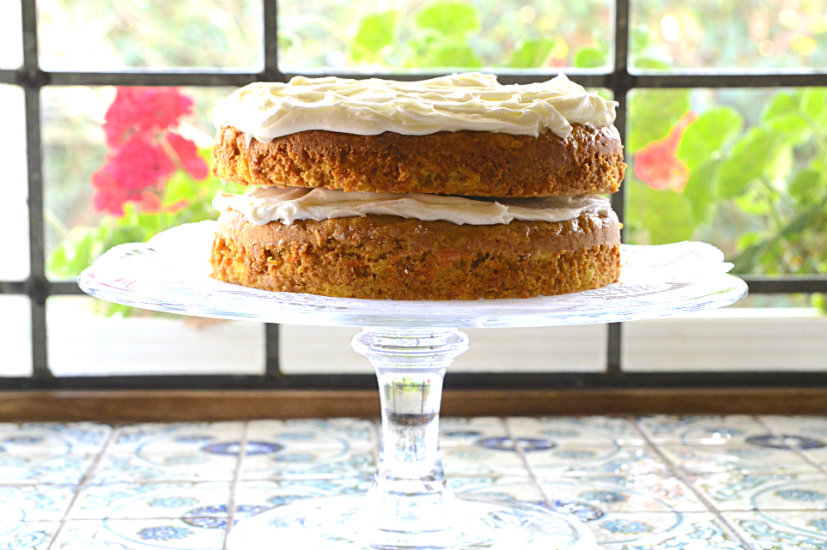 A dozen years have passed since I snipped this recipe from now an unknown magazine. The recipe gives no credit to the creator. And the backside of the recipe is an advertisement for "2004 medical breakthroughs." It's a mystery! I'm not even sure I'd given the recipe a try until now. I just love the ingredients. Well, it does have a cake mix. Yikes! But take a look at the ingredients and see what you think.
One reason this recipe is low calorie is the frosting which, of course, I didn't use. I used my standby Butter Cream. I have included the Marshmallow Creme Frosting Recipe … simple.
This is a recipe worth trying! And I've made a few changes just because it's simpler.
Recipe
Preheat oven to 350 degrees F
12 Pitted prunes (Don't like prunes? Do dates! It works. Only slight difference in nutritional value.)
1/4 Cup hot water
1 Yellow cake mix (the simpler variety, no pudding in the mix)
1/4 Cup cooking oil (no strong tasting olive oil, I used canola oil)
2 Large eggs at room temperature
1 Teaspoon ground cinnamon
1 Cup finely grated carrots
1 8 Ounce can unsweetened crushed pineapple, drained
Puree prunes (or dates) with the hot water in a blender or processor and set aside to cool slightly.
Put all ingredients into a large bowl and mix until all ingredients are incorporated well. No over mixing please.
Pour batter into two 8 inch round cake pans or one 13 by 9 inch oblong baking dish. Cake pans should be greased or buttered and dusted with flour … And for best results the bottom of each cake pan should have parchment paper … Grease under and on top of the parchment paper. The oblong baking dish can be simply sprayed with cooking spray.
Bake for 35-45 minutes until center bounces back when pressed lightly. The oblong dish may bake faster.
Cool to room temperature before frosting. For the 8 inch rounds-remove cake to rack from pans after 10 minutes initial cooling.
Frosting:
4 Ounces reduced fat cream cheese-room temperature
1/2 Cup Marshmallow Creme
Place into a bowl and beat with electric beater on low at first then medium until fluffy. This recipe produces a thin layer of frosting. If you desire thick you may need to double the recipe.
Garnish with pecans-roasted or not-if you wish.
Enjoy!