Cheddar Cheese Sour Cream Potatoes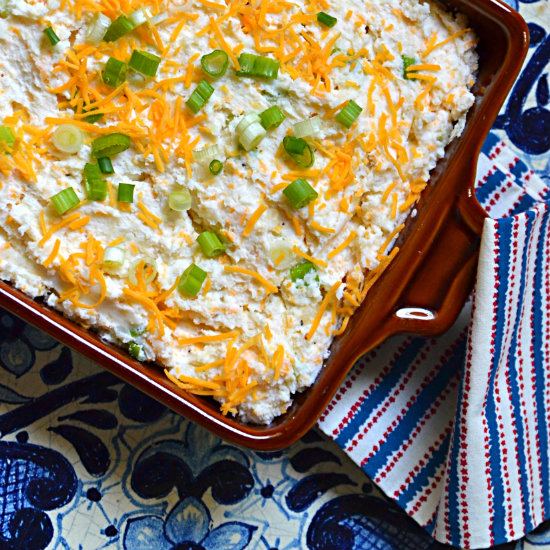 The potatoes are being popped into the oven for a 25 minute reheat. Another great potato recipe for family or company. Just like a baked potato fully loaded. Add what your family likes on a baked potato and you can't go wrong. I added our favs: butter, sour cream, cheddar cheese and chives.
Recipe
3 Large baking russets will serve 4 people generously (baked, peeled and grated)
1/3 Cup butter-melted
1 cup sour cream
4 ounces Cheddar Cheese-shredded
Salt and Pepper to taste
1/3 Cup sliced green onions-tops & bottoms or 1/4 cup chopped chives
Bake the potatoes at 350 degree F for I hour or until done. I microwave to save time because the potatoes need to cool to room temperature before continuing the recipe. You can bake the potatoes a day ahead and refrigerate. Then continue following the recipe.
When potatoes cool to room temperature grate them into a large bowl.
Add the melted butter and fold.
Fold in the remaining ingredients. Spoon the ingredients into a 8 inch square baking dish and heat for 25 minutes (longer if your potatoes have been refrigerated) in your 350 degree F preheated oven.