Quick Cheese Enchiladas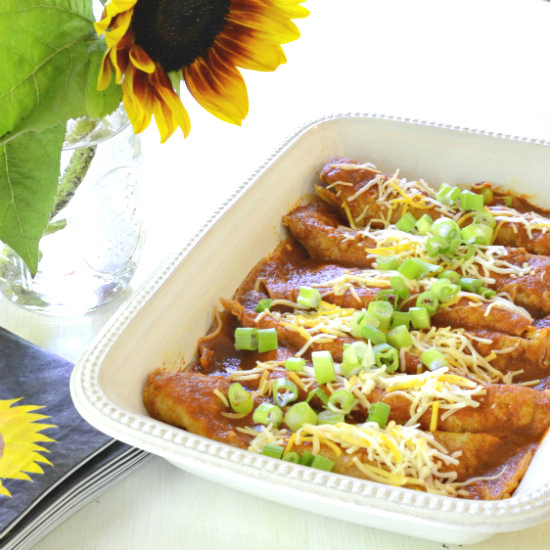 Quick and Easy Enchiladas … Enchiladas have always been a family favorite. In the day, putting together enchiladas seemed like a big laborious process … grating the cheese … cooking the onion … and just in general making it a big operation, preparing dozens at a time. So many tasks back then seem so easy today … Has the process really changed? Yep, it has! This can be done in no time with the help of a few conveniences that either were not available or just not used in the 60's. Enjoy this easy delicious recipe for Cheese Enchiladas.
Recipe
Preheat oven to 350 degrees F
Makes 12 enchiladas
1/2 Cup cooking oil
12 Large corn tortillas
1/2 Large sweet onion-minced
1 Pound Sargento shredded Mexican cheeses
28 Ounce Las Palmas Enchilada Sauce (mild or hot)
Green Onions for garnish
Heat the oil in a skillet just large enough to accommodate the size of the tortilla.
Heat just below a simmer the enchilada sauce in a separate skillet.
Dip each tortilla into the heated oil to soften. Dip to both sides.
Drain the the oil by holding the tortilla gently with tongs over the oil skillet. Make sure your oil is hot enough or the tortilla will just fall apart. The oil should sizzle around the tortilla. Sizzle both sides.
With tongs drop carefully the oil softened tortilla into the heated sauce. Use a spatula and flip the tortilla to saturate both sides.
Remove the tortilla to a jelly roll pan or other large flat pan with edges. Place a generous amount, about 1/3 cup, of cheese into the center of the tortilla. Sprinkle about 2 teaspoons of minced onion over the cheese.
Fold over an edge of the tortilla and roll with seem down. Move to one side and continue the process.
In an oblong baking dish place enchiladas. Try to find a dish that will hold the enchiladas pretty close together. This helps prevent drying out in the final heating process. Spoon excess sauce over each enchilada.
Place baking dish in oven and heat until the cheese melts and enchiladas are heated through. About 30 minutes.
Garnish with green sliced onions.
Need pictures of the process? Check out this for a step by step approach.