Easy Cheesecake Bars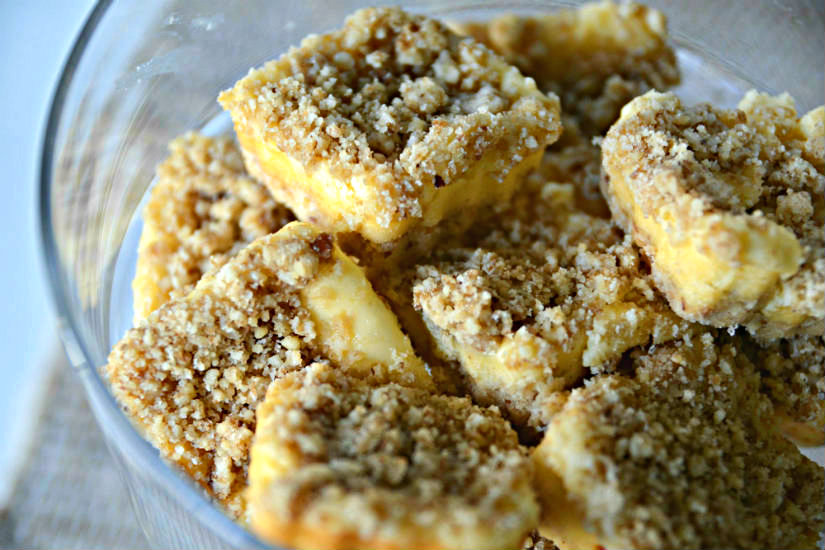 This rich and sweet Cheesecake Bar is low in sugar. Children love these too!
This easy recipe whips up quickly. Usually baked in an 8 inch square baking dish … I am always looking for a baking method to change up the presentation. I am not sure the baking method created a more attractive outcome this time. So next time I will be baking in the square baking dish.
Enjoy this no fuss dessert. One of our family favorites.
recipe
Bake at 350 degrees F in a preheated oven
Makes 16 servings, each 2 inch square
1/3 Cup butter-if using unsalted butter add 1/4 teaspoon salt
1 Cup all purpose flour
1/2 Cup rough ground walnuts
3 Tablespoons brown sugar
8 Ounces cream cheese
1 Large egg
1/4 Cup sugar
2 Tablespoons cream, in a pinch milk
2-4 Teaspoons lemon juice
1/2 Teaspoon vanilla
Mix together the first 3 ingredients, cutting the butter into the flour and nuts as you would in making a pie crust. Press one half of this mixture into a buttered baking dish. And place this into the oven until the edges become a golden brown. About 15 minutes.
Add the brown sugar to the remaining half of the flour mixture. Set aside.
Mix the remaining ingredients. It is easier to mix the cream cheese if it is room temperature but not required.
Remove the crust when done and let cool slightly. Pour the cream cheese filling onto the cooled crust. Add the remaining flour mixture as a topping, crumbling evenly.
Bake the dish for 20-25 minutes, 30 minutes if the crust cooled completely.
Serve alone and enjoy! Or if you wish for company serve with raspberries and raspberry sauce.