Chicken Breasts With roasted Vegetables
Serve This Dish Hot Or Cold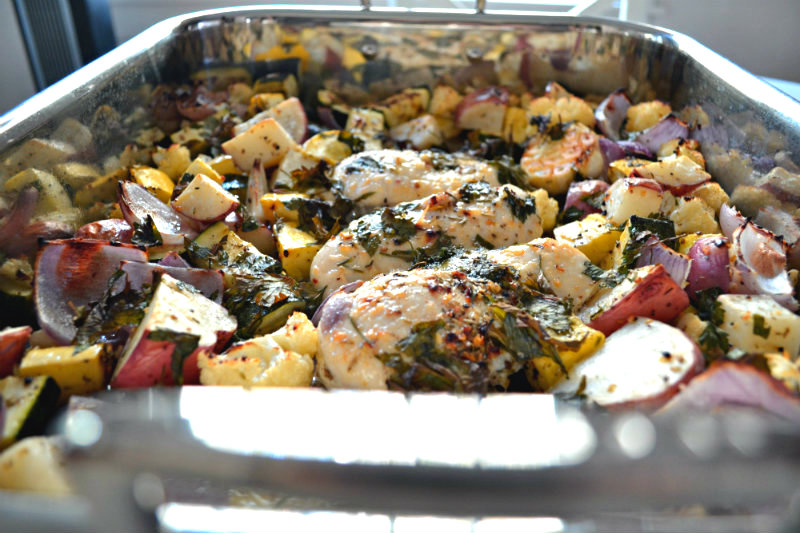 Caramelized vegetables are a favorite. So easy to do, and why not add the chicken in the last minutes and have a one dish meal … Chicken Breasts with Roasted Vegetables.
Ina Garten first introduced me to roasted vegetables … Something I now cook regularly and especially at Thanksgiving. I put just about every vegetable I can think of in the mix. My sons now find brussel sprouts one of their favorites. Who knew!
In this dish I have included summer vegetables, cauliflower, red potatoes, and onion. These were cooked until almost done and then I turned the heat down, added the chicken on top and continued to cook until chicken breasts were tender, about 20-25 minutes.
Recipe
Time: Prep 15 minutes and cooking 45-60 minutes
Serving for 3-4
Olive oil
Butter for chicken–can use olive oil or combination
Salt and pepper to taste
1-2 heads of garlic (optional)
1 clove garlic–minced
Italian seasonings (optional for vegetables)
Parmesan cheese for chicken–grated (optional)
Two full chicken breasts, skinned, boned and divided in half
Combination of vegetables for 4 people (4 small red potatoes or 2 small-medium sweet potatoes, 1/2 head cauliflower, 4 carrots, 1 red onion, 4 small squash, all cut about the same size)
First prepare vegetables for roasting. Root vegetables do well prepared this way. I do not recommend very large zucchini. Large zucchini contain large amounts of water.  I have used in the past a combination of carrots, sweet potatoes, red potatoes, brussel sprouts and cauliflower. Choose what you and your family like best. Cut the vegetables about the same size … so the cooking will be even. If you are using garlic cut the top off the head and place cut side up in the pan and drizzle with a little oil. Place all other vegetables in roasting pan. Drizzle the vegetables with olive oil and season with sea salt and pepper. I used 1-2 teaspoons of Italian seasoning in this dish but  this is optional. The roasting imparts great flavor without much needed in the way of seasoning. Place in the oven that has been preheated to 425 degrees F and roast for 35 minutes. Stir to turn vegetables after 25 minutes.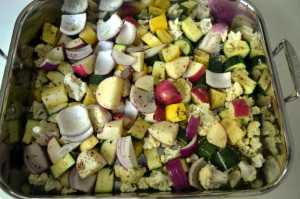 While vegetables roast prepare chicken. Rinse chicken and pat dry. Flatten very thick breasts. This is done by placing breast between waxed paper, top and bottom, and use a meat mallet or rolling pin. Be sure to use the flat side of the meat mallet. Dip the chicken in melted butter, or olive oil, or combination. Place on platter or baking dish. Sprinkle with oregano or combination Italian seasoning, one clove of minced garlic and Parmesan cheese (optional but oh so good). After the vegetables have baked at 425 degrees for 35 minutes check for brownness. If not turning at this time cook a bit longer.  After vegetables reach a color remove from the oven and make room for the chicken breast in the pan. Place chicken in pan and return to the oven that has been turned to 375 degrees. The breast will cook in 20-25 minutes. Remove from oven when done. Check the vegetables for caramelization. If not brown enough remove chicken and return vegetables to oven until they reach the color you desire.
Serve warm or at room temperature. Delicious!