Portuguese Style Chicken Wings &
Blue Cheese Dip
Super bowl or Anytime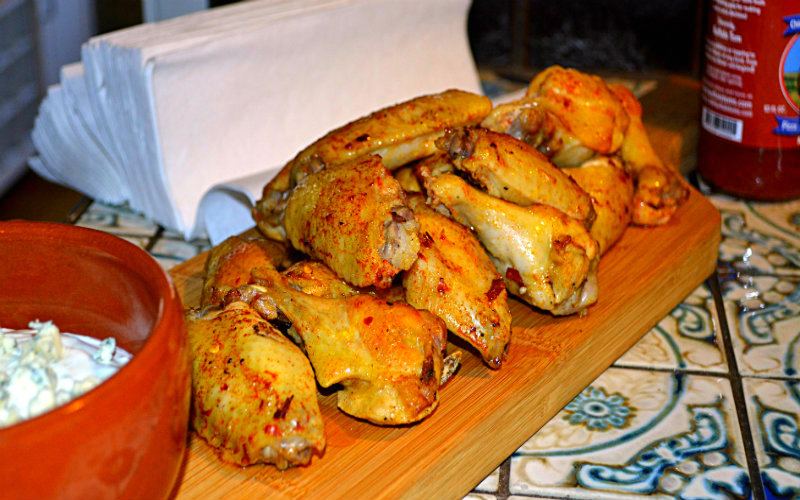 These Chicken Wings, Portuguese Style, are spicy enough to be called Buffalo wings. Serve with a blue cheese dip and you have a crowd pleaser. Add heat with cayenne pepper. Or if you have few guests that appreciate hot … have a great hot sauce on the side.
Crispy when baked in the oven. Crunchy when pan fried for a few minutes and then placed into the oven to finish cooking.
Chicken Wings Portuguese Style with Blue Cheese Dip for Super Bowl Sunday!
 Recipe
Bake at 425 degree F preheated oven for 40 minutes, rack in the middle of the oven
IF pan frying for ten minutes before placing into the oven to acquire a crunchy outer skin bake for 30 minutes or less, turn down oven to 400 degrees
Three pounds chicken wings-cut into two meaty pieces with tips removed, often sold prepared this way
Cooking oil if frying the wings before baking
2 Tablespoons of olive oil for marinade
1/2 Teaspoon red pepper flakes
1/4-1/2 Teaspoon cayenne pepper (optional)
2 Teaspoons of Spanish paprika (This has a smokey taste. Be aware this comes in different degrees of heat. Use sweet or if you are brave go hotter but the taste of the paprika changes too.)
2 Teaspoons of cumin
1/2 Cup chicken broth
1/2 Cup white wine vinegar
2 Cloves of garlic-crushed
One teaspoon each of salt and pepper or to taste
Mix all the ingredients for the marinade (exclude the chicken and the cooking oil)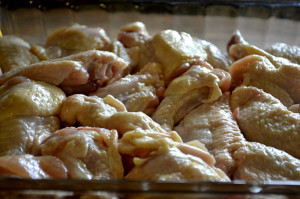 Place clean chicken wings into a plastic bag or lidded dish. Single layer is best.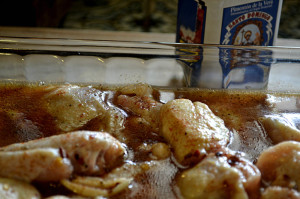 Add marinade and seal the container. Remove air if you can. Place into refrigerator for 4 hours. Turn chicken half way through to cover all surfaces.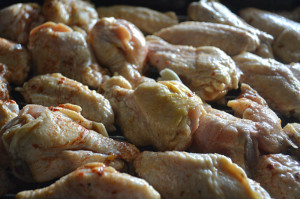 Place the marinaded chicken in a single layer on a rack in a shallow pan and place into the oven for baking. OR fry chicken wings, at this point, until browned (about 10 minutes) in a skillet with cooking oil over medium heat. Chicken must be blotted dry before the frying process .. but not if you are baking only. Just blot to avoid removing spices. Hint: Adding left over marinade to the oven baked chicken will increase the moisture in the oven and the chicken will have less crispness. Not recommended.
The slightly precooked (fried) chicken is to be baked at 400 degrees F for 30 minutes. The chicken that is not precooked before baking will require longer baking time at 425 degrees F. Do check the chicken part way through the baking, either method, and turn over if browning too heavily on top. 
Serve with blue cheese dip, recipe below. And extra hot sauce.
Blue Cheese Dip
1 Cup sour cream
1/4 Cup mayonnaise (or ranch dressing if you like)
1/4-1/2 Cup crumbled blue cheese
Splash of vinegar (optional)
1 Clove garlic-minced (optional)
1 and 1/2 Teaspoon McCormick vegetable seasonings (contains sea salt, onion, garlic, pepper, red bell pepper, etc etc) or other desired seasonings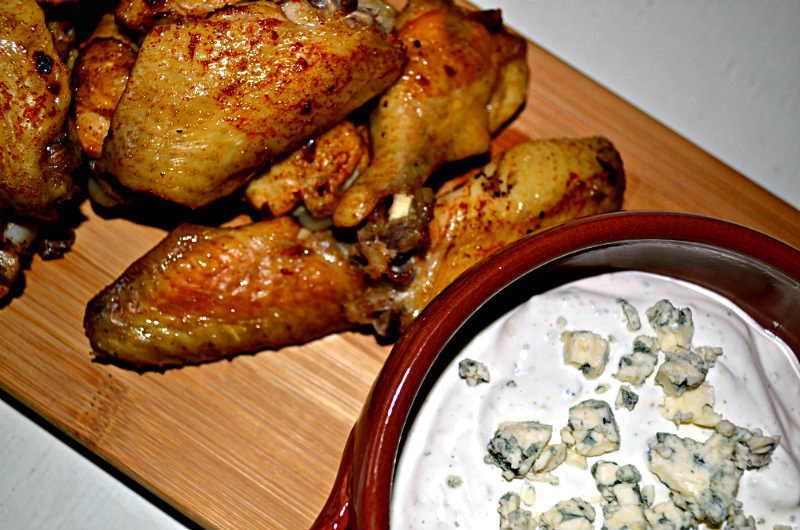 Chicken Wings Portuguese Style YUM!